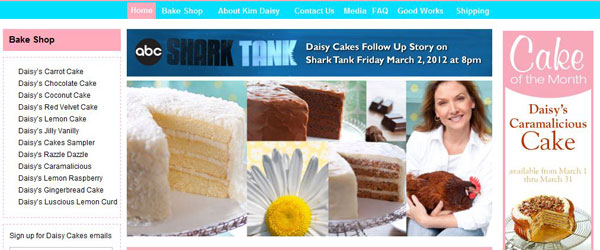 Kim Nelson, founder of Daisy Cakes, hit prime time on Shark Tank with a cake recipe handed down from Grandmother to Grandmother. Her sweat Southern charm, work ethic and planning captured the Sharks attention. Once focused, she offered up her delicious desserts, while watching Shark after Shark devour every last crumb on each plate. When Kim first appeared, she was selling her cakes from her website, packed in dry ice and shipped anywhere. She was also in the process of getting her home-made lemon curd on the shelves at Whole Foods Markets.
Daisy Cakes Pitch
Kim went in the Tank looking for a $50k investment for a 25% share in the business. Daisy Cakes has good margins: they cost $18 to make and sell for $44. In the 3 months prior to taping, she sold about $27K worth of product. Kim makes her cakes in America and everything from the ingredients to the packing and shipping containers are made in the USA too. The biggest question the Sharks have is how will Kim keep up with growing demand since the company is a two person operation. Mr. Wonderful and Kevin Harrington both think the business is too small and it will take too much work to make it grow; they're out. Daymond and Robert concur and go out as well, leaving Barbara Corcoran.
Barbara notices that even though all the boys went out, they finished their cake! She likes Kim (and the cake) and thinks the made in the USA commitment is a good concept. Barbara offers Kim $50K for 25%  of the business, plus a one dollar per cake royalty until she recoups her investment. Kim accepts Barbara's offer and the two women begin cooking up ways to help Daisy Cakes grow!
Daisy Cakes Shark Tank Update
Most Shark Tank fans (and 4 out of 5 Sharks) thought a mail order cake business was a regional play at best.  They couldn't have been more wrong! After appearing on Shark Tank, Kim secured commercial kitchen space and began turning out Daisy Cakes by the TON. She's doing over $100K per month in sales and Barbara has recouped her investment. People in all 50 states purchased Daisy Cakes and the company continues to gather sales momentum. This is one of Barbara's most successful deals ever. It just goes to show you, if you want to win over a Shark, let them eat cake!
Daisy Cakes got an update segment in episode 311 where Kim revealed there were challenges with outsourcing her recipes. The business took a $165,000 loss due to a contract bakery's mistakes. She's since brought production back close to home where she can keep an eye on things and Daisy Cakes continue to sell very well.
In the episode 518 update, Kim has the business back on track and doing big numbers again. She's closer to her production facility and has previous quality control problems solved.
In 2019, she opened a second bakery in Las Vegas to reduce shipping costs for west coast orders
In 2020, the company gets another update segment in episode 1208 where they talk about how they weathered the Covid-19 pandemic.
As of January, 2023, she's still in business with $4 million in annual revenue.
Posts about Daisy Cakes on Shark Tank Blog
Daisy Cakes Deal
Company Information