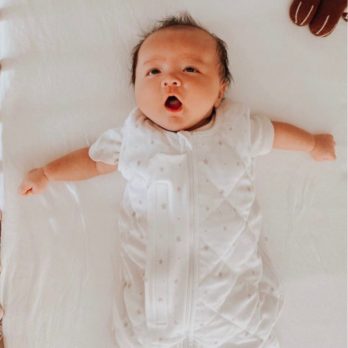 Tara Williams seeks an investor for Dreamland Baby, her weighted baby sacks, in Shark Tank episode 1122, the season 11 finale. Williams created her product out of sheer exhaustion. Her fourth child, Luke, just would not sleep through the night. He was constantly fussing. One night, when he was being particularly fussy, Tara placed a heavy blanket on him and it calmed him down immediately. For the first time, Luke, and his parents, slept through the night.
That inspired her to make the first version of Dreamland Baby. Her mother-in-law helped her sew the first "sack" that became her product. The sacks are wearable weighted blankets – kind of a cross between overalls and a sleeping bag. The weight comes from poly pellets sewn between layers of cotton fabric.
Weighted blankets help babies reduce stress and increase relaxation. The weight is located on front (or top) of weighted sack only and is designed to promote back and side sleeping. It's kind of like swaddling, but with a bit more gentle pressure. Soon, word got out and Tara was making them for family and friends. That's when she knew she was on to something.
She took the leap and raised $24,541 on Kickstarter back in June, 2019 to get her business started. The campaign funded in 72 hours! Now, she sells them on her website and Amazon for $79. They were designed in partnership with pediatricians, NICU nurses and certified sleep consultants. Dreamland Baby exceeds all United States Consumer Product Safety Commission standards too. Tara likely wants a Shark to help her "blow up" the product. Will a Shark weigh in and invest?
Company Information
Video

Posts about Dreamland Baby on Shark Tank Blog
Dreamland Weighted Baby Blankets
Dreamland Baby Shark Tank Recap
Tara enters seeking $100,000 for 10% of her business. She wants a Shark's help getting her business off the ground. Pretty much all of her sales of $30,000 or so is from the Kickstarter which causes concern among the Sharks. They feel it's a product, not a company yet.
It looks as if Tara isn't getting a deal, but at the last minute, Lori offers $100,000 for 22.5%. Lori says they have a long road ahead, but she believes in Tara.
Dreamland Baby Shark Tank Update
The Shark Tank Blog constantly provides updates and follow-ups about entrepreneurs who have appeared on the Shark Tank TV show. The deal with Lori never closed. As of November, 2021, the company is still selling direct to consumers on their website. For a time, they reduced their Amazon inventory due to Amazon listing too many knock-off products. In December, 2021, the company announced it had reached $10 million in lifetime sales. You can find their products in Target, Nordstrom, Bloomingdales, Babylist and Amazon.
The company also introduced weighted swaddles and transition swaddles. As of August, 2022, annual revenue is $1 million per yer.