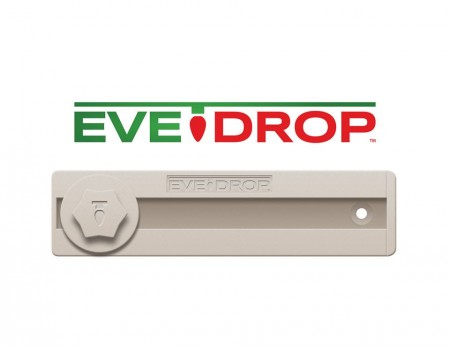 Nathan Shaffer hopes to light up a deal with a Shark for EveDrop, his Christmas light hangers, in episode 614 – the season six Shark Tank Holiday Special. EveDrop is a sliding, plastic fastener system that keeps lights hanging year-round. The sliding system, which works with "open eaves," allows Christmas lights to slide out of sight after the season, eliminating the need for hanging them up every year.
Mr. Shaffer invented EveDrop after becoming frustrated with getting up on a ladder to hang his Christmas lights, only to have to get up again three weeks later to take them down. He founded the patent-pending company in March, 2013. The company was originally called Lightslide and Shaffer had an unsuccessful Kickstarter campaign to fund it in June, 2013. In January, 2014, he took another shot at Kickstarter and successfully raised $4,431 to fund the first run of production.
Shaffer is likely looking for a Shark to help with an investment to fund further production and help with distribution.
EveDrop Shark Tank Recap
Nathan enters seeking $75K for 20% of his business. He demonstrates the product, then the questions start. Robert asks for a close up demonstration for how the product works. He shows how the pole lets you move the lights without a ladder. Next, he explains how he only has $4,500 in sales, but he's invested most of his money in molds.
He shows the Sharks the packaging and explains they cost $9.99 per set. Barbara says her mom did the same thing with nails. Mark says since Barbara's mom was smarter than him, he's out. Kevin hates the idea and he's out. Robert questions his numbers and his sales skills; he's out. Barbara doesn't think he's persuasive enough and questions his judgement. Nathan pitches his product hard, then Lori interjects and says she's out. Barbara doesn't think the product will sell itself; she's out.
RESULT: NO DEAL
EveDrop Shark Tank Update
The Shark Tank Blog constantly provides updates and follow-ups about entrepreneurs who have appeared on the Shark Tank TV show. Nathan saw a dramatic increase in sales after airing: sales doubled. He got the product into Ace Hardware, Do It Center, and True Value retail outlets for a time, but apparently it didn't sell through. He closed the business in August, 2016 and now sells real estate in St. George, Utah.
Posts About EveDrop on Shark Tank Blog
Company Information
Video