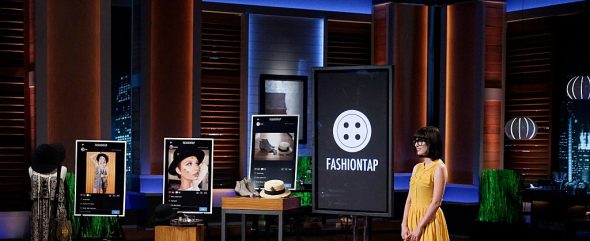 Amy Roiland pitches FashionTap, her app that allows fashion "influencers" to monetize their fashion photos, reviews, and recommendations, in Shark Tank episode 724. Roiland, a fashion blogger and former  model, designer, and PR-rep, created FashionTap as a social network for fashion that allows members and fashion influencers to tag brands and make money when other users buy the clothes tagged in the photos. They can share their photos on other social networks, yet still have the tracking capabilities that are inherent in the FashionTap App.
The app itself is much like a "members only" version of Instagram with monetization built -in. The main page of the app/website contains hundreds of members' pictures. To join, simply create a profile, then tap on the pictures you like to view and (if you want to), purchase the clothing pictured. Fashion marketers – or any member for that matter – can post photos of their favorite clothing or accessories and include a link to purchase the pictured items. Roiland wants to build both a community and an income stream for members and supply them with the tools to see what's hot and what's not.
Roiland proudly states that she makes no money off anyone using the app – 100% of any sales commissions go straight to the member. She created it out of a passion for her trade and profession. While Roiland may make money from her own member photos, she probably needs a Shark to figure out how to monetize the platform – perhaps by offering a premium service to brands and PR firms. Will a Shark tap into the potential of this new, fashion-centric, social network?
FashionTap Shark Tank Recap
Amy comes into the Shark Tank seeking an investment of $100,000 in return for 10% of her company.
The Sharks begin by questioning the need for a niche fashion app, in light of existing sites like Instagram. Amy responds that the existing sites are "too cluttered" and that they don't offer the features that she's built into FashionTap, like the ability to link to a specific item in a picture. Users who tag items in their photos can link to the retailer's site, and earn a commission on sales from their link.
Kevin O'Leary wants to know about revenue streams. Amy explains that she plans to connect with big box retailers, using her user base, to get a commission of 10% of the sales that are generated by her app. The plan relies upon the big box retailers believing she has enough followers to generate enough business to provide them the incentive to offer her a commission.
Mark Cuban wants to know about her user base. She has 6000 downloads in six months with 1,500 active monthly users. The app was released as a "soft launch" through Amy's blog. She's done no additional advertising or marketing.
Her second income stream would come from sponsorships from the fashion industry, who would pay for models to wear their clothing in pictures on the app. The third income stream would come from affiliate links.
Thus far, the app has raised $60,000 in sales. Amy's plan is to get 1-3% of the total sales through the app, but she is not currently taking any income. She has an investor who's put up $90,000, and who owns 38% of the company. Another investor owns 29%, for a total of 67% already owned by other interests. The Sharks' interest is waning.
Amy plans to use the $100,000 on marketing, attempting to build the app's audience. She believes that she can build the sales to $7 million, making the app profitable. Chris Sacca tells her that Instagram is already "the fashion app." He does not believe that the designers, models, and big-name companies will be willing to give up even a slim percentage of their profit margins to affiliate links without a much more substantial user base.
Mark Cuban disagrees, but he doesn't think there are enough reasons for users to download her app. He doesn't believe that the incentive of affiliate percentages is strong enough to build her audience to the necessary levels. He's out.
Chris Sacca tells Amy that she's "chasing the holy grail," that the idea of a "push a button and buy the sweater Jennifer Aniston is wearing on Friends" has been around for a long time. He likes her idea, but doesn't believe she's being realistic about the amount of work and time it will take to get the affiliate deals from the fashion industry leaders. He's out.
Kevin O'Leary sees Amy as too small and crushable by the existing big players in the industry. He's out.
Daymond John calls Amy the "real deal," but he believes Instagram is going to move into the space. He's out. Only Barbara remains.
Barbara says "I should listen to the tech guys here, but I'm going to ignore them." She compares FashionTap to her earlier successful investment in Grace 'n Lace, and makes an offer: $100,000 for 25%.
Amy doesn't counter. She declines the offer out of hand, even though the Sharks urge her to reconsider. When she stands firm, Barbara goes out.
RESULT: NO DEAL
FashionTap Shark Tank Update
Amy continues to pursue her vision of expanding her app and pursuing affiliate marketing opportunities. She's maintaining the app through her website, social media, and blog. Despite that, there's no sign that the app has exploded onto the fashion scene as she'd hoped. Will Instagram simply step into the niche space by including opportunities for affiliate links in its platform? The idea, speculated by the Sharks, seems likely considering the breadth of Instagram's reach. In that case, FashionTap would likely be tapped out by a larger platform. This is one app that looks like it'll go out of style as quickly as the duck face selfie.
Amy did bring her following to Instagram where she has 153,000 followers. She shut down the app in July, 2018.
Posts About FashionTap on Shark Tank Blog
FashionTap Company Information
Video