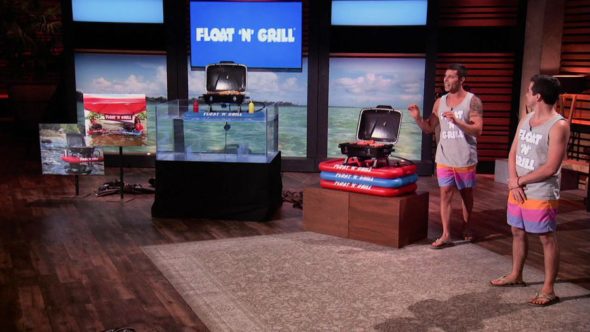 Mikey Bashawaty and Jeremy Quillico seek a deal for Float n Grill, their grill that floats in the water, in  episode  1221. The guys basically designed a grill that floats on the water. Mikey had a small, 16 foot boat that he'd take to his local lake's sand bar to hang out on warm days. The problem was, he couldn't pack much into it and he and his friends wanted more food options.
One day, he designed a crude, floating grill. To everyone's surprise, it worked. Jeremy did some online searching and discovered there were no floating grills out there. They took the time to patent it and come up with a good design and got a Kickstarter going in 2017. Unfortunately, they only managed to raise $862 on a $200,000 ask. Fast forward to 2021 and the guys have a patented product, inventory and they're open for business.
The grills sell for $229 and have textured marine-grade vinyl, a built-in igniter, cup holders, two latches to lock the grill lid tight, a removable grease trap and a spot to hold the propane tank in place. It weighs 9 pounds and is 35. 5 inches long by 26. 5 wide by 6. 5 inches tall. They come in red or blue and are available on Amazon. Both men still have full time jobs, so they likely want a Shark to help them blow up sales.
Company Information
Video

Posts about Float N Grill on Shark Tank Blog
Float 'n' Grill – Floating BBQ Grill
Float N Grill Shark Tank Recap
Mikey and Jeremy enter the Shark Tank seeking $200,000 for 20% of their company. They tell their story and show off their product. Mark recognizes the guys from a viral video with the grill. They cost $126.88 to make and they sell for $229 which includes free shipping. Total sales for the year (2020) is $19,400. The Sharks are not impressed. Kevin slams them on their sales.
Daniel asks if there is something they could license to Weber grills. They say they have a patent. Daniel says he will set up a meeting with Weber to license the product and offers $200,000 for 50%. Mikey counters with a $100,000 loan at 7% interest rate, 100,000 for 20% equity and a $2 per unit royalty until the loan is paid back. All the other Sharks go out because of poor sales. Daniel holds on for 50%. Their other investors own 30%. The maximum the guys will sell is 22.5% Daniel counters with $100,000 for 22.5% of the company, $100,000 loan at 7% plus 50% of any licensing deal they do.
Float N Grill Shark Tank Update
The Shark Tank Blog constantly provides updates and follow-ups about entrepreneurs who have appeared on the Shark Tank TV show. In the immediate aftermath of the show in May, 2021, they ran out of inventory. By July, 2021, they were available again. There is no evidence that the deal closed with Lubetzky at this time, but the guys told a Detroit Free Press reporter "he's a cool guy. His team is exceptional." Anytime we need a contact they are there for us." Mikey told the same reporter "we are in the works with a major company that deals with grilling and I will leave it at that."
Ultimately, the deal with Daniel did close. In December, 2021, the grills were featured in the Rolling Stone holiday gift guide. As of August, 2022, the licensing deal with the "major company" has not closed. The products are available for pre-order on their website and "currently unavailable" on Amazon. Life time sales are $1.2 million. In April, 2023, the grills are listed as "sold out" on the company website and Amazon. As of June, 2023, the website is down and social media is dark; looks like this business couldn't stay afloat.
I will update this page as new information becomes available.