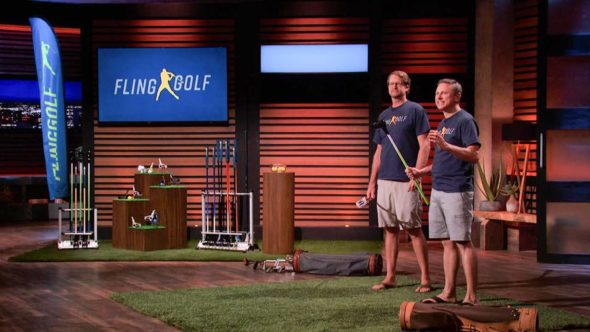 John Pruellage and Alex Van Allen pitch FlingGolf, their new way to enjoy a golf course, in Shark Tank episode  1221.When Van Allen was young, he and his brothers and friends used to combine sports: football on skates, ultimate frisbee on bikes, and golf with lacrosse sticks. The latter sport became somewhat of a lifetime obsession. He set out to make a "stick" that would allow him to hurl a golf ball 200 yards with accuracy. Even once he'd developed it, he was sure no golf course would allow it.
He brought the product to Walt Lankau, a Board Member of the National Golf Course Owners Association to see what he thought about it. He loved the idea and thought it was something golf courses needed (golf has been on the decline in the 20th century). The best part is, course owners don't need to change anything on their course. When he presented the product at the NGCOA Annual Conference in February 2014, the response was outstanding. There are over 1700  courses that welcome Flingers on their courses. The goal is to be allowed on every course in the world.
The FlingGolf Flingstick looks like a golf club but with a tiny, rigid lacrosse basket instead of a club head. You play just like regular golf, except you fling the golf ball instead of driving it. When you get on the green, there's a putting plate on the side. They range in price from $89 for a Kid's size all the way up to $179 for the top of the line Ballistick. The guys have built momentum for their new sport and now they want a Shark to help take it to the next level..
Company Information
Video

Posts about FlingGolf on Shark Tank Blog
Fling Golf – Golf/Lacrosse Mashup
FlingGolf Shark Tank Recap
John and Alex will pitch the panel of five Sharks on the business and its prospects for growth. They'll need to convince Mark Cuban, Kevin O'Leary, Lori Greiner, Robert Herjavec and recurring Shark Daniel Lubetzky that the company is worthy of a Shark investment. A good business plan, good financials, and sales data will impress the Sharks, but they'll need to show them THEY are capable of running the company to "Shark standards." A full pitch re-cap on Fling Golf will be available on Shark Tank Blog once this episode airs.
FlingGolf Shark Tank Update
The Shark Tank Blog constantly provides updates and follow-ups about entrepreneurs who have appeared on the Shark Tank TV show. Once an episode has aired, we monitor the progress of the businesses featured, whether they receive funding or not and report on their progress. The Shark Tank Blog will follow-up on Fling Golf & John Pruellage and Alex Van Allen as more details become available.