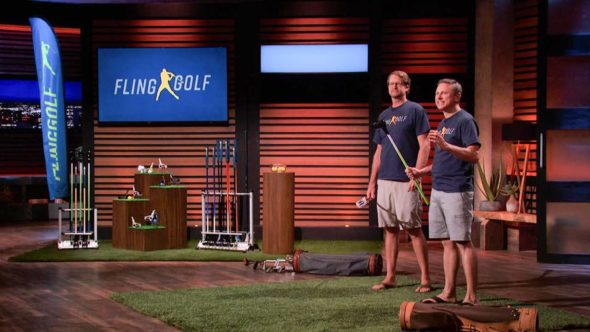 John Pruellage and Alex Van Allen pitch FlingGolf, their new way to enjoy a golf course, in Shark Tank episode  1221.When Van Allen was young, he and his brothers and friends used to combine sports: football on skates, ultimate frisbee on bikes, and golf with lacrosse sticks. The latter sport became somewhat of a lifetime obsession. He set out to make a "stick" that would allow him to hurl a golf ball 200 yards with accuracy. Even once he'd developed it, he was sure no golf course would allow it.
He brought the product to Walt Lankau, a Board Member of the National Golf Course Owners Association to see what he thought about it. He loved the idea and thought it was something golf courses needed (golf has been on the decline in the 20th century). The best part is, course owners don't need to change anything on their course. When he presented the product at the NGCOA Annual Conference in February 2014, the response was outstanding. There are over 1700  courses that welcome Flingers on their courses. The goal is to be allowed on every course in the world.
The FlingGolf Flingstick looks like a golf club but with a tiny, rigid lacrosse basket instead of a club head. You play just like regular golf, except you fling the golf ball instead of driving it. When you get on the green, there's a putting plate on the side. They range in price from $89 for a Kid's size all the way up to $179 for the top of the line Ballistick. The guys have built momentum for their new sport and now they want a Shark to help take it to the next level..
Company Information
Video

Posts about FlingGolf on Shark Tank Blog
Fling Golf – Golf/Lacrosse Mashup
FlingGolf Shark Tank Recap
John and Alex enter the Shark Tank seeking $300,000 for 10% of their business. They tell their story and give their pitch. The guys invite a Shark onstage to try it out and Daniel gives it a whirl. Robert says you've brought lacrosse to the golf course. Kevin says there's no way in hell courses would allow this and Alex tells him it's been played at the country club in Brookline. Kevin says the golf gods will strike him dead and Alex says "we don't care." The Sharks LOVE that comeback.
They sell to both golf courses and consumers. The golf courses that are doing well are resorts where the whole family can play. Robert talks about how golf is booming during the Covid-19 pandemic. 2019 sales were $142,000. So far in 2020, they have $142,000 through July. They cost $25-$35 to make and sell for $119 – $179. When Daniel questions the valuation, John says it's the foundation: product development, patents, IP etc. They've put $1.5 million of their own money into the business and raised another $500,000.
Mark says it's hard to scale a new sport; he's out. Lori says she loves innovation, but she's afraid of flinging balls and doesn't like the valuation; she's out. Kevin says when he heard the sales, he thought it was poo poo on a stick; he's out. Daniel says he can get them into a lot of courses and introduce them to some pro golfers; he offers $300,000 for 33.3%. Robert says he can help them and makes the same offer as Daniel. John counters with $300,000 for 20% for either Shark. Daniel says he'll do it for 25% and gives them five seconds to decide. They take the deal.
FlingGolf Shark Tank Update
The Shark Tank Blog constantly provides updates and follow-ups about entrepreneurs who have appeared on the Shark Tank TV show. The deal with Daniel did not close. The company does not appear on Daniels portfolio website. My guess is it won't close because Fling Golf doesn't need the money. In the 48 hours after their initial air date, they sold more product than they do in a month. Pre Shark Tank, John and Alex were calling on golf courses, now the courses are calling them to make sure they have Fling Sticks in their pro shops. Players are bombarding golf courses, asking if they allow Fling Golf. It's even being played at elite courses like Pebble Beach, Torrey Pines, Streamsong Resort and Chambers Bay. I predict this sport will take off. 2021 sales are expected to top $1 million.
In May, 2022, they played the New Swarm FlingGolf Classic Tournament May 21-22, the first World Fling Tournament, at the American Classic Golf Club in Delaware. It will be broadcast on ESPN on August 5, 2022. By July, 2022, the sport is available at over 17,000 courses in the USA and over 34,000 courses worldwide, including a few dozen US military bases. 2021 sales were $1.3 million. 2022 sales should be at least twice that based on the progression of the sport.