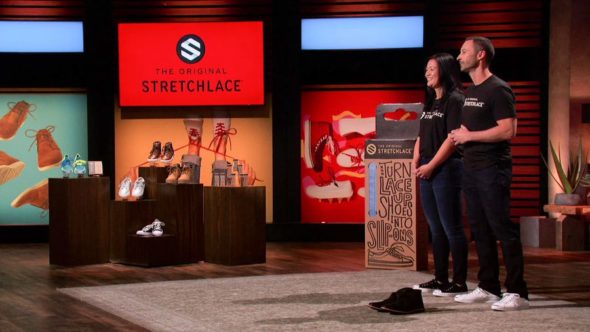 Jamie and David Montz seek to tie up a deal for StretchLace, their elastic shoelaces, in Shark Tank episode 1221. Jamie started the business in 2015 because she was sick of tying her kids' shoes. The elastic laces turn any shoe into a slip on. They look like regular laces, they just stretch. When she first started the company, she was still working in eCommerce. Jamie was actually a Director of eCommerce at Amazon for a year and a half before quitting to run her business full time in July, 2019.
The product is popular with people with special needs, athletes and senior citizens. With StretchLace, athletes don't have to worry about swelling feet. Seniors suffering from arthritis, neuropathy or diabetes will find it a little less uncomfortable with elastic laces. Those with physical impairments find it easier to just slip their shoes on than tying them. Most kids can't master the fine motor skills to tie shoes until age 5 or 6. Stretchlaces  lets parents avoid a lot of time tying shoes.
The laces come in round or flat styles and come in a couple dozen colors. They're packed and shipped in 100% recycled paper, printed with water based inks AND are 100% recyclable, biodegradable, and compostable. A pair of Stretchlaces costs $9.99. They're available on the company website and on Amazon. The Montz's likely want a Shark to help grow the business.
Company Information
Video

Posts about StretchLace on Shark Tank Blog
The Original Stretch Lace – Elastic Shoelaces
StretchLace Shark Tank Recap
Jamie and David enter the Shark Tank seeking $100,000 for 15% of her company. They give the pitch and tell the story, then the Sharks examine their samples. Each unit costs $1.49-$2.14 to make and they sell for $9.99-$13.99. They only sell online. Last year's sales were $221,000. This year's (2020) sales are $165,000 to date (episodes for season 12 filmed in July and August). Their suppliers were affected by Covid-19 and they went some months without inventory.
She goes into how she created the product and about her Ecommerce background. Daniel doesn't think her numbers reflect her experience. Robert says: "You are a 20-year Amazon goddess selling a $13 shoe lace. I'm out." Mr. Wonderful calls them "shoelace cockroaches," he's out. Daniel likes the product but  thinks she doesn't have enough drive; he's out. Lori thinks they are going to make it, but it's not the product for her; she's out. Mark thinks they don't need an investor; he's out.
Before they leave, Robert says: "I've got to believe there's more in you than shoe laces." He wants their help with his other businesses. He offers $100,000 for 33%. They counter with 25%. He says he wants Jamie to develop new products. They counter again with 30% and Robert agrees.
StretchLace Shark Tank Update
The Shark Tank Blog constantly provides updates and follow-ups about entrepreneurs who have appeared on the Shark Tank TV show. The deal with Robert did not close. As of December, 2021, they are in just about any store you'd expect them to be in: WalMart, Target and Amazon. As of August, 2023, she's still in business. Reliable revenue figures are unavailable at this time. I will update this page as more information becomes available.