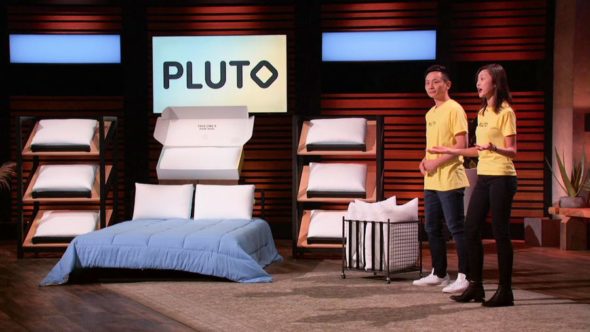 Kevin Li and Susana Saeliu seek an investor for Pluto, their customizable pillow company, in Shark Tank  episode  1221. The Genesis of the company came when Susana had a particularly stiff neck one morning. She went searching for the perfect pillow and simply couldn't find one. She noticed how the mattress industry had been disrupted, but pillows were still sold the same way.
Susana enlisted Li and they started their business in 2018. They interviewed sleep experts, consumers and physical therapists to get the design right. Susana, who had previous connections to a large pillow manufacturer, also sourced the finest pillow components. The secret sauce for Pluto Pillows is their patented algorithm that customizes each pillow they sell to each customer's needs and wants. They use a series of questions to craft a pillow for you. For instance, if you "sleep hot," they'll incorporate cooling gel fiber in your pillow.
Pillows cost $95 for a queen size and $115 for a king. They have a 100 night return policy too. Susana told Living Cozy the "pillows are also a hybrid-design, with a supportive, high-grade CertiPUR-US inner core, encased within an outer plush pillow, both unique to your individual sleep profile."  Each pillow is made by hand according to the specs provided by the consumer. They likely want a Shark to help them grow the business quickly.
Company Information
Video

Posts about Pluto on Shark Tank Blog
The Pluto Pillow – Custom Pillows
Pluto Shark Tank Recap
Kevin and Susana enter the Shark Tank seeking $400,000 for 5% of their business. They tell their story and explain their business, then present the Sharks with their own custom pillows. Before making the pillows, they researched each Sharks' pillow preferences. They explain how they fit pillows based on their algorithm. Their return rate is low, too. In 2018, they did $197,000 in sales; in 2019 it was $473,000 and so far in 2020 (about half way through the year) they're at $490,000. They sell the pillows for %95, pay for $18 in shipping and it costs $25-$30  to make the pillow. The Sharks don't like the margins.
Lori says it's a very competitive space; she's out. Susana explains they have a patent on how they construct the pillows with their algorithm. Mark thinks they should build pillows ahead of time based on their data points and past sales – he doesn't think they've gone through that yet; he's out. Daniel loves pillows but he thinks someone elde can do the same thing; he's out. Kevin doesn't like the valuation; he's out. Robert wasn't interested when they first came out, but they sold him. He has confidence they can overcome their business shortcomings. He offers $400,000 for 20%. He says he can get them out there faster. They counter with 9%, and Robert says no. Kevin thinks they can continue to grow. They think about it and decline his offer.
Pluto Shark Tank Update
The Shark Tank Blog constantly provides updates and follow-ups about entrepreneurs who have appeared on the Shark Tank TV show. In a blog post written after the show, Pluto Pillow revealed some things that didn't air during their segment (segments generally take 1-2 hours to film and get cut to 8-10 minutes). One thing that didn't air was they had other investors. This can complicate things in the Tank if the entrepreneurs don't want to get too diluted. Since airing, they introduced the Puff, a body pillow and the Pod, a travel pillow. CNN named them "best overall pillow for 2023. As of July, 2023, they have 7 employees and revenue of $3 million.