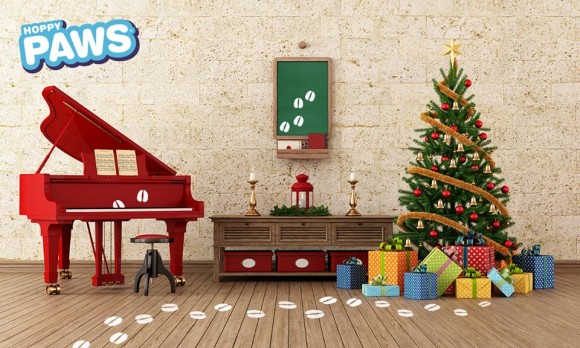 Trina Barkouras hopes the Sharks bite on the business she created from a family Christmas tradition, Hoppy Paws, in the Shark Tank Holiday Special – episode 614. Trina created Hoppy Paws over 20 years ago when she made an Easter Bunny "paw print trail" for her kids. The trail wound through the house and ended up at their Easter baskets. Her neighbors loved the idea and started asking where they could get the materials to make trails for their kids.
Trina decided to make a business out of the stamping kits. She expanded the line to include monster footprints for Halloween, stork prints for expectant parents, and leprechaun prints for St. Patrick's Day. The kits that brought her to the Shark Tank Holiday special are the reindeer and elf print kits for Christmas.
Each kit costs $6.99 and contains a footprint stamp, a mixing tray, and the "super secret" powder that creates the prints. Hoppy Paws sells on the company website. Ms. Barkouras is likely looking for a Shark to help with retail distribution.
Will the Sharks leave a trail of cash and invest in Hoppy Paws?
Hoppy Paws Shark Tank Recap
Trina opens with an "at home" segment where Trina explains her rough childhood and the origins of Hoppy Paws. She enters seeking $50K for 10%. She's wearing antlers! She explains the product to the Sharks and hands out samples. Barbara wants to know what the powder is and Trina explains it's biodegradable.
Trina started the business only 90 days ago! She has packaging and product all ready to go. Trina explains she was emancipated at age 16 and she's been on her own since then. The first production run cost $50K. Trina said she picked up the samples only a day ago. She has $105K invested in everything. Mark calls Trina a BEAST – he wishes his sales people had her drive!
Robert loves her story, but he isn't convinced it will sell; he's out. Lori thinks Trina is a hero, but she isn't sure the product is. Trina pitches hard. She clears up Lori's concerns about packaging similar to egg coloring kits and says she's mesmerized by Trina. Kevin says he's always wanted a woman with antlers in his portfolio. He offers to put the first $5000 up if any other Shark will match him. Mark says he'll kick in $5000.
Barbara asks some questions and says her kids loved this kind of thing. She offers 100K for 50%. Trina asks if she'll finance purchase orders and asks if Barbara will go to 51%-49%. Barbara says she will if she gets 50% of future ideas. Trina takes the deal!
RESULT: DEAL with Barbara for $100K for 49%
Hoppy Paws Shark Tank Update
The Shark Tank Blog constantly provides updates and follow-ups about entrepreneurs who have appeared on the Shark Tank TV show. Barbara and Trina eventually closed their deal, but the business faced some challenges. The company is featured in Beyond the Tank episode 207. Read a full recap and update HERE.
They rolled out at Halloween in Target in 2016. Even though Shark Tank boosted sales for this business, things never really took off for them. The company shut down in February, 2019.
Posts About Hoppy Paws on Shark Tank Blog
Hoppy Paws Company Information