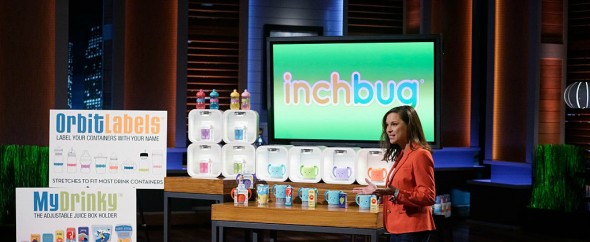 Brenda Lee Feldman pitches the Sharks on her 12-year-old business, InchBug, that has a new product coming to market. Feldman started the business in 2004 with her InchBug Orbit Labels – a simple, stretch-and-release band that fits snugly around a variety of containers and is easily personalized with a child's name. She created the labels to send with her then 18-month-old daughter to daycare. Most daycare providers want drinks and snacks labeled and this was an easy way to go about it.
She's since expanded to adhesive stickers that can be used on clothing, belongings or on foods as an allergy alert. The stickers can be personalized with a child's name, too. Feldman comes to the Tank with her newest invention: the My Drinky juice box holder. When a juice box is inserted into a My Drink, it can't be squeezed or spilled.
The labels run anywhere from $8-$13 and any product can be personalized with a child's name in your choice of font and colors. The My Drinky has yet to come to market, but InchBug also sells training pants, bibs, utensils, swim goggles and more. Feldman likely needs a Shark to help her ramp up production on My Drinky.
Will a Shark inch up close and invest?
InchBug Shark Tank Recap
Brenda enters seeking $400,000 for 10% of her business. She hands out samples of the My Drinkys and orbit labels, emphasizing that she's not a one product company. As she's explaining, Mr. Wonderful asks why she has a $4 million valuation. When she tells the Sharks she's sold only $50,000 of MyDrinky, they are less than impressed. When she tells them the orbit labels have $15 million in lifetime sales, she has their attention again.
Last year's sales were $2 million. The Sharks are clearly interested in the labels, but Brenda keeps circling back to MyDrinky. She wants to get it in retail. Robert and Mark don't like the retail idea and they go out. Barbara doesn't like MyDrinky and goes out. Lori's next, leaving Mr. Wonderful.
Surprisingly, he offers $400,000 for a $1 per unit royalty until he recoups $1.2 million. For that, he wants 5% of the business. Kevin says he'll promote the company on social media, but Brenda wants to know about retail. Next Kevin says his offer is conditional on NOT going in to retail. Brenda doesn't like that and refuses the deal.
InchBug Shark Tank Update
The Shark Tank Blog constantly provides updates and follow-ups about entrepreneurs who have appeared on the Shark Tank TV show. Brenda did get into  buybuyBaby and some other mom and pop shops. She's still in business and has a vibrant Amazon store.
In August, 2021, Brenda launched Orbit Label 2.0 featuring contrasting personalization without the use of ink or paint, and is the first one on the market made of 100% kid-safe silicone. She also launched new icons: Dinosaur, Smile, Cupcake, Heart, Trophy, Diamond, Rocket, and Unicorn. As of November, 2022, annual revenue is $5 million.
Posts About InchBug on Shark Tank Blog
InchBug Company Information
Video