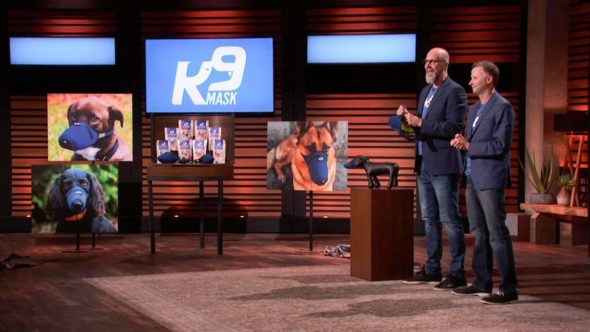 Kirby Holmes and Evan Daugherty pitch the K9 Mask, an air filter mask for dogs, in Shark Tank episode 1206. Kirby first got introduced to wearing an air filter mask as a youth while visiting his grandparents in Ojai, California during the summer. There were frequent wildfires in the hills around their home and they'd don air filter masks when the smoke got too thick.
Kirby is a dog lover and he still wears an air filter mask during wild fire season, but he also worried about his dog's health. When he went looking for a mask for his dog, he couldn't find one. Kirby, who has vast experience dealing with manufacturers sales reps, called on Evan, a veteran product designer, to help him make one.  The result was the K9 Mask.
They formed The Good Air Team, LLC to start making the K9 Masks and the rest is history. They got the business off the ground with a Kickstarter campaign that raised $10,725  back in May, 2019. A K9 Mask costs $59 and comes in small, medium, large and extra large. They come with four carbon replacement filters and you can get them in black, blue, red, pink or orange. There's also a filter that's N-95 for protection from pollution and Covid-19. 5 packs of replacement filters cost $25. When the pandemic hit, the company pivoted and started making masks for humans too. They're readily available on Amazon and the company website. The guys likely want to get into retail pet stores, particularly in areas with lots of pollution. They're hoping a Shark can help with that.
Company Information
Video

Posts about K9 Mask on Shark Tank Blog
K9 Mask Shark Tank Recap
Kirby and Evan enter seeking $200,000 for 20% of their business. The Sharks "get it," particularly in the Covid era. Blake is a bit concerned about the cost, but the guys make everything in Dallas, so their costs are higher. That's why they want a Shark. They want a partner who understands manufacturing.
Mark is concerned that there aren't enough sales, so he goes out. One by one, the Sharks drop out until Daymond, who has other products in the pet space, extends an offer. He wants $200,000 for 45%. The guys counter with 40% and Daymond does the deal.
K9 Mask Shark Tank Update
The Shark Tank Blog constantly provides updates and follow-ups about entrepreneurs who have appeared on the Shark Tank TV show. The first re-run of this episode is just two months after the original air date. The company is still operating, but there is no evidence the deal with Daymond closed. When I contacted them asking if the deal closed, they replied "Thanks for your note. We are not able to comment yet on this information.."
As of July, 2021, there is still no evidence this deal closed.
As of January, 2023, the deal did not close. Reliable revenue figures are unavailable at this time.