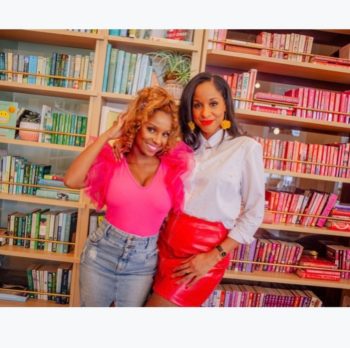 Mabel and Shaira Frías are sisters and they jump into the Shark Tank with their brand of make up, Luna Magic, in episode 1211. Their bright and bold colors are inspired by Caribbean & Latin American culture. Mabel is a former digital strategist who helped the online sales of beauty products for Macy's, Nordstrom and others. Shaira is a former journalist and a make up artist who went to the Academy of Freelance Makeup School.
Mabel found it difficult to get big companies to embrace the vibrant colors she wanted make up to express. She approached her sister in early 2019 and they started their business. The ladies were raised in New York with Dominican parents and they wanted a beauty line that would appeal to all Latinas and those who like the culture. They named the business as an ode to their mother who passed away while they were planning their start up. In May, 2020, the company was awarded a Glossier Grant, an award set up by the billion dollar make up company specifically for black owned beauty companies. They were one of 16 "winners" out of over 30,000 applicants.
African American and Latina women spend over $35 billion on cosmetics annually and the Frais sisters want to appeal to that market. The company sells eye shadow, lipstick, brushes, false eyelashes and more. The colors are fun and bright and their pricing is in line with recognizable, name brand make up products. They areavailable on Amazon, WalMart and other stores, but they'd like to blow up their "Latin Vibe" business with the help of a Shark.
Company Information
Video

Posts about Luna Magic on Shark Tank Blog
LunaMagic – Latina Inspired Make Up
Luna Magic Shark Tank Recap
Mabel and Shaira enter seeking $200,000 for 10% of their company. The Sharks are impressed that the sisters are in over 1000 stores and are in negotiations for end caps in WalMart. The women say they need a Shark to help them with logistics.
The Sharks like the fact they have cash in the bank – $157,000 – and no debt. Unfortunately, Lori and Alex have conflicts and cannot invest. The only offer is from Barbara. She offers a $250,000 line of credit for 30% and she'll fund all purchase orders. The sisters accept.
Luna Magic Shark Tank Update
The Shark Tank Blog constantly provides updates and follow-ups about entrepreneurs who have appeared on the Shark Tank TV show. The first re-run of this show in March, 2021 is less than two months after the original air date. As of this time, there is no evidence of this deal closing. My gut tells me it didn't since it was such a Sharky offer. On the Luna website, the sisters say:
"Nerves aside, we successfully pitched Luna Magic Beauty and walked away with an offer. Luna Magic Beauty is looking forward to the future exposure, strategic advice, and mentorship from our investor and you can currently shop Luna Magic Beauty in Walmart stores and Walmart.com."
They say they walked away with an offer, not a deal. As of July, 2021, it looks as if the deal with Barbara did not close. I will update this page as more information becomes available. As of October, 2023, the products can be found in Target, Wal Mart and CVS stores. Annual revenue is estimated at $1.7 million at this time.