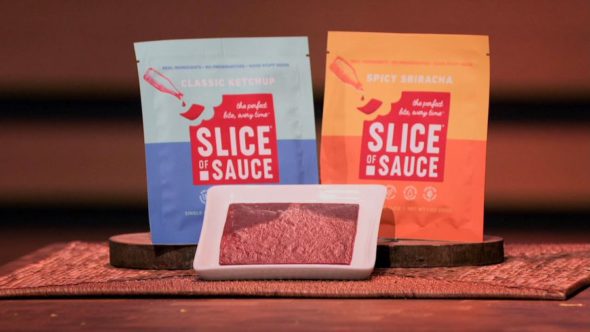 Cole and Emily Williams seek an investor for Slice of Sauce, their ketchup and sauce slices, in Shark Tank episode 1211. Ketchup slices are kind of like fruit roll-ups, but made from ketchup. Emily claims the idea came from and old barbeque sauce recipe her dad concocted years ago at his restaurant. When she tried to replicate it, she had a bunch of braised veggies left over that she had to throw out. Apparently, Emily is not the wasteful type. She ground up the left overs, baked and dried them. What she got was a dried sheet of sauce that would eventually become Slice of Sauce.
The slices make it a bit easier to tote "ketchup" on the road or while on a hiking or camping trip. They're square – like a piece of American cheese – and come in pouches of 8. The "sauce" should last for a year in the cupboard and don't require refrigeration. They come in two flavors: Classic Ketchup and Spicy Siracha. Each pouch costs $5.99 and is available for pre-order on their website.
They had a successful Kickstarter campaign back in 2017 that raised $30,090 to get the business off the ground. Since then, they've promoted the product at food shows and were finalists in Naturally Austin's "Pitch Slam." They likely need a Shark's help getting production running and getting on store shelves.
Company Information
Video

Posts about Slice of Sauce on Shark Tank Blog
A Slice of Sauce – Ketchup Slices
Slice of Sauce Shark Tank Recap
Cole and Emily enter seeking $200,000 for 10% equity in their business. They tell their story and hand out samples. The Sharks like the taste but not the price. They're concerned consumers won't pay the premium price. There are also other investors and the company is pre-revenue. Cole and Emily say they can find a co-packer and get costs down.
The one Shark who's interested is Alex. He thinks since the slices don't need refrigeration, it's a good marketing tool. Alex offers $200,000 as a convertible note which converts when sales reach $1.8 million for 15% equity. The couple accepts.
Slice of Sauce Shark Tank Update
The Shark Tank Blog constantly provides updates and follow-ups about entrepreneurs who have appeared on the Shark Tank TV show. The deal with Alex never closed. As of November, 2022, there is no way to order the product from the company website and social media accounts are either dormant since 2019 or, like their Facebook page, gone. Their homepage says "coming soon to a grocery store near you." It appears this business is on the way out.
I was right. In December, 2022, the website is GONE, they are out of business.