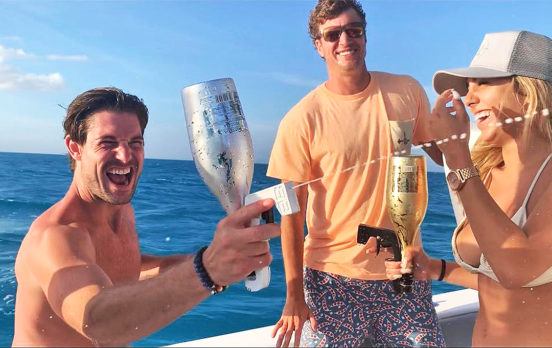 Bradley Hall and Stason Stong hope to make a big splash with Bubbly Blaster, their "Champagne gun," in Shark Tank episode 1211. A Champagne gun is an attachment that goes on top of a Champagne bottle that lets you squirt a stream of Champagne like a super charged squirt gun. The natural carbonation of champagne provides the pressure to shoot Champagne in your friend's mouth or all over someone's body. It's basically a ooler way to spray Champagne.
There are other Champagne guns on the market, but they're far more expensive than the Bubbly Blaster. Stason invented his version in his own garage with a little help from an engineer buddy who works at Space-X. He enlisted the help of his pal Bradley who has a strong background in both the corporate world and in entrepreneurship. The pair had a Kickstarter campaign to fund the production of the first round of Bubbly Blasters, but it was cancelled due to an intellectual property dispute over a video and some photos used in the campaign.
Pricing is $99 per unit on the company's Amazon store. As for the product itself, it attaches to any champagne bottle. It can be used one-handed and is very controllable and efficient due to a special, pressure sensitive trigger. This lets you squirt up-close, accurate streams or long-distance shots up to 30 feet away. It also works as an airtight bottle stopper when you're not using it which preserves your Champagne. There's even an accessory port to attach a universal video mount and phone cradle, so you can take photos or video of your Champagne "shots." The Bubbly Blaster guys likely want a Shark's help with manufacturing and inventory
Company Information
Video

Posts about Bubbly Blaster on Shark Tank Blog
The Bubbly Blaster – Champagne Gun
Bubbly Blaster Shark Tank Recap
Bradley and Stason enter seeking $120,000 for 20% of their business. They hand out samples and the Sharks have a little fun squirting champagne. It's clear the guys are targeting Alex and Mark as they've been involved in locker room champagne celebrations. They claim their product will be used in every future locker room celebration.
The Sharks like the sales: $560,000 for the year. They also like the margins: it costs them $18 to make a unit that sells for $99. They say they want a Shark that will help them fund inventory and help with sales and marketing. The Sharks have concerns that this business won't generate repeat sales, but Mark and Alex can see sports teams using it in celebrations, so they decide to team up. Alex and Mark offer $180,000 for 30% of the company and the guys accept.
Bubbly Blaster Shark Tank Update
The Shark Tank Blog constantly provides updates and follow-ups about entrepreneurs who have appeared on the Shark Tank TV show. The first re-run of this episode is in March, 2021 – less than two months after the initial air date. At this point there is no evidence this deal closed. Since it's only six months after they actually taped, it could be they're still in due diligence. I will update this page as more information becomes available.
As of July, 2021, it appears the deal with Mark and Alex did not close. They are sold out of some of their products on their website and many knock-offs are appearing on Amazon. As of January, 2023, annual revenue is $900,000 – $1 million.