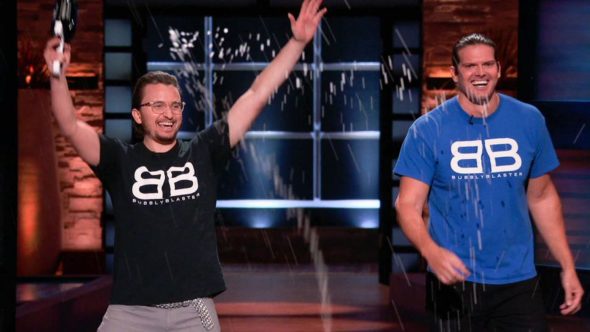 The Bubbly Blaster takes the art of spraying Champagne to a whole new level. Sprayinng Champagne all over each other is a symbol of victory in the sports world. The practice began in the 1960's when race car drivers decided it would be a fun way to celebrate. Now, it's a right of passage in any championship victory.
With Bubbly Blaster, you can spray a stream of Champagne up to thirty feet. It's literally a Champagne Gun. The nozzle attaches to the bottle of Champagne (it works on sparkling wine too) and the pressure from the bubbles naturally gives it enough push to blast it like a high powered squirt gun. It acts as a stopper for the bottle too, keeping your Champagne fresh and carbonated.
Stason Stong created the Bubbly Blaster in his garage and enlisted his friend Bradley Hall to help him sell it. They did a Kickstarter campaign to get things going back in 2018, but it got pulled over a dispute over licensed images. At $99 it's more expensive than most pedestrian sparkling wines, but far less expensive than a premieum bottle of Moet & Chandon. They're available on the company's Amazon Store. This pitch could get messy when they try to get a Shark to drink up and invest. Will Sharks like sprayed Champagne?
My Take on The Bubbly Blaster
This looks like a fun product. I don't drink much Champagne myself, usually only on New Year's Eve or when I'm having lobster with my parents. That doesn't mean I wouldn't want one, it just wouldn't get a lot of use at my house. I've been to a few parties at friends' home that would definitely want one or two Bubbly Blasters in attendance though.
What I'm wondering is how much (if anything) they raised on Kickstarter before their campaign got pulled. It's odd to see a campaign pulled for copyright infringement – they could've just uploaded new photos. Even though it took them two years to get on Shark Tank, perhaps their luck will be good and they can spray a Shark with some victory Champagne.  Both Mark and A-Rod have experienced Champagne soaked locker rooms, maybe this will bring them back  to those days.
Will Sharks Drink Up and Invest?
I'm not sure how the Sharks will view this pitch. It looks like they're having fun in the promo video, but that doesn't always mean a deal. Mr. Wonderful is a wine guy, but I'll bet he likes Champagne too. I don't think he'd like the idea of wasting a good bottle to squirt at people though. As I said above, A-Rod and Mark have done the championship Champagne spray thing, so they'll get the concept.
The thing about this product is it's basically a novelty, and a fairly pricey one at that. I'm thinking there is no deal here. If there was, the producers would have put it on before New Year's Eve to promote sales. I could be wrong, but that's what my gut is telling me.