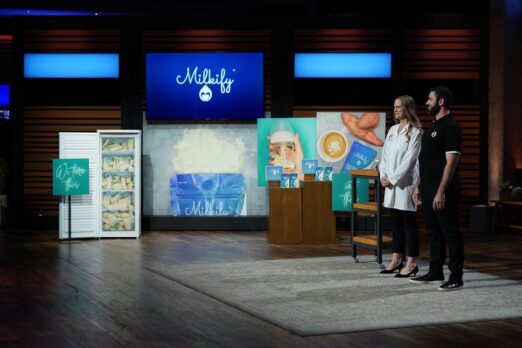 Husband and wife team Dr. Berkley Luck and Pedro Silva seek a Shark investment for Milkify, their breast milk freeze drying service, in Shark Tank episode 1420. Dr. Luck's background is in gut microbiome research and Pedro's is in investment banking. The couple started the business in 2019 to provide nursing mothers with shelf stable, freeze dried breast milk.
Breast milk is better than formula because it provides nursing infants with beneficial bacteria that are important to healthy baby development. Many nursing moms freeze their breast milk, but that can be bulky and messy. Freeze drying breast milk is a much neater way to go about storing breast milk. All the milk is freeze dried hands free using their patent pending process Dr. Luck developed using her ten year's experience in labs.
The way it works is simple. Request a shipping cooler from Milkify, fill the included lactation bags, stick them in the cooler and ship them to the company. If you live in the Houston area, you can drop milk off at their facility. They freeze dry the milk and ship it back to you. Each vacuum sealed packet of breast milk powder has a 3 year shelf life. Prices run from $79 for 30-40 ounces of milk all the way up to $469 for 270-300 ounces. Shipping varies on the size of the order. The couple likely wants a Shark's help scaling the business.
Company Information
Video

Posts about Milkify on Shark Tank Blog
Milkify Freeze Dried Breast Milk
Milkify Shark Tank Recap
Dr. Luck and Pedro enter the Shark Tank seeking $400,000 for 10% equity in their company. Dr. Luck says lots of moms freeze breast milk. The problem is it takes up a lot of space, it's diificult to transport and it starts losing its nutrituional quality in as little as 3 months. They've solved that problem by creating the first hands free method to freeze dry individual bags of breast milk. Their freeze dried milk is a convenient way to store breast milk and is shelf stable for three years. All the vital nutrients are preserved; to make a bottle, just add water.
They have samples packets for the Sharks, but it's not real breast milk. Dr. Luck says "we don't do that." She wants the Sharks to get a feel for what the consumer would get in the mail. She has a sample of her own breast milk. The packet has instructions for how much water to add. She empties the contents of the packet into the bottle, gives it a quick swirl and she's good to go. The Sharks are impressed.
Lori wants to know about nutrition and Dr. Luck says research shows there's no significant loss of nutrients with freeze drying. Gyneth says she would have loved something like this when she was nursing. Gwyneth wants to know how it works and Dr. Luck expalins the ordering and shipping process. The cost is about $1.60 per ounce and the average order value is $475 and that equates to 4-5 weeks of supply.
Lori wants to know their backgrounds. Dr. Luck is a research scientist with a PhD in molecular microbiology. While researching the infant gut microbiome, she went in head first to research freeze drying breast milk. Both Pedro and Dr. Luck have been full time for 3 years. Pedro's backgroung is in private equity. He seeded $40,000 into the company for R&D because he knew his wife was smart.
Right now (summer 2022) they have $2million in registered orders. Lifetime sales are $525,000. In 2021, sales were $181,000, in 2022, sales were at $344,000 as of taping. Right now, they're breaking even because they're investing into a new facility. They project a 20%-25% net profit by Q2 2023. They invested $60,000 of their own money and their parents invested $120,000 to build a proof of concept facility. Their new space will allow them to do $3 million in revenue in 2023 with the space to add equipment as they grow. They aren't spending anything on advertising at the moment.
Mark sees it as a luxury for people who can afford it and most mothers wouldn't be able to avail themselves of the service; he's out. Kevin says it's not a good fit for him; he's out. Barbara thinks it's for affluent moms; she's out. Gwyneth wants to know the market and Dr. Luck says there are 2 million moms freezing breast milk today. Pedro says 60% of total sales have come from middle and lower income households. Gwyneth thinks it's a great service, but the valuation is high.
Pedro asks if she'd be open to a debt deal and asks if Lori would join with Gwyneth. Lori says it's a great product but the valuation is high. Lori and Gwyneth confer. They offe a $400,000 loan for 3 years for 20% of the company. Pedro counters with a $100,000 convertible note. After 3 years, if Gwyneth and Lori don't like where it's going, they'll pay them back; if they like where it's going, they get their 20%. Gwyneth and Lori accept.
Milkify Shark Tank Update
The Shark Tank Blog constantly provides updates and follow-ups about entrepreneurs who have appeared on the Shark Tank TV show. The first re-run of this episode in July, 2023, is just 4 months after the original air date. At this time, the deal with Lori and Gwyneth has not closed. In June, 2023, the company began offering nutritional testing as an add-on service where they measure the calories, carbohydrates, fats, and proteins in your milk using the Miris, an FDA approved human milk analyzer. Reeliable revenue figures are unavailable at this time.
The Shark Tank Blog will follow-up on Milkify & Dr. Berkley Luck and Pedro Silva  as more details become available.