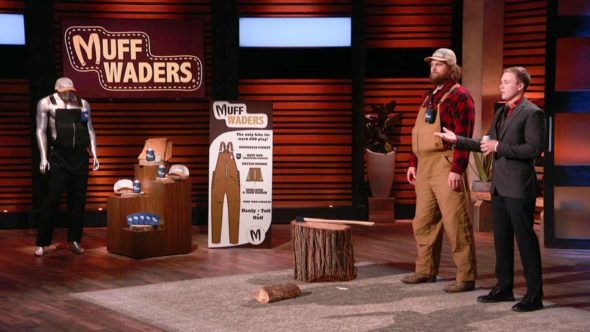 Taylor Ness and Garret Lamp seek a Shark investor for Muff Waders, their overalls built for the drinking man. The overalls contain a cooler that will hold a six pack, a bottle opener, a built in koozie and pockets for holding bottles of liquor. They bill the overalls as "built for work and play."
The two men started the business in 2018 and failed to raise enough money in a Kickstarter Campaign that closed in February, 2019, but they persevered and started the business anyway. They recently added a second product, Muff Spenders, which are suspenders that have a bottle opener, koozie, two insulated drink pockets and a utility pocket. That project was funded on Kickstarter in October, 2020, but manufacturing delays due to the Covid-19 pandemic have delayed shipment until spring, 2021.
The Muff Waders come in brown or black and they're made of heavy duty material – kind of like Carhart jackets. A pair of waders costs $85. The spenders are fifty bucks and come in blue or black. The guys claim to be small town guys and they both still have full time jobs, so they likely want a Shark's help with inventory and distribution.
Company Information
Video

Posts about Muff Waders on Shark Tank Blog
The Muff Wader – Overalls for the Drinking Man
Muff Waders Shark Tank Recap
Taylor and Garret enter the Shark Tank seeking $25,000 for 25% of their business. During their pitch, they explain what "Muff" means: "manly" plus "tuff." They need a Shark's help with supply chain logistics. Cost to manufacture one unit is $35 and they sell for $85. Total sales are $54,000. Despite cracking the Sharks up with their pitch, all the Sharks go out and they leave without a deal.
Muff Waders Shark Tank Update
The Shark Tank Blog constantly provides updates and follow-ups about entrepreneurs who have appeared on the Shark Tank TV show. The first re-run of this episode occurs just four months after the original air date. The company is still in business, but they have not updated their Facebook page since a few days after they originally aired. They are also "currently unavailable" on Amazon (they were in stock pre-show so they must have made some sales).
In an April, 2021 Press Release, Stevia Nutra Corp. – a manufacturer of Hemp clothing (among other things) – acquired Muff Waders for an undisclosed amount. Stevia Nutra Corp. (STNT) is a publicly traded company that will be able to put some real marketing dollars behind this product. In the press release, it states the company had sales of over a quarter of a million dollars in the aftermath of the show.
In July, 2021, they came out with a "Stars and Stripes" version of Muff Spenders for the fourth of July.