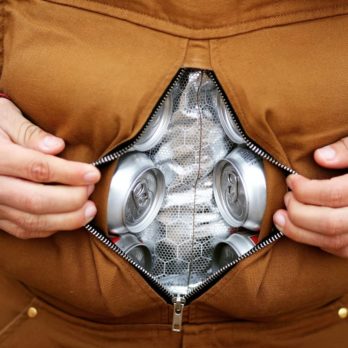 Taylor Ness and Garret Lamp created The Muff Wader because they love the outdoors and drinking. The envisioned overalls with a built in cooler, bottle opener, beer holder and special pockets for storing booze and other items. So they made a prototype, failed at a Kickstarter, then started the business anyway back in 2018.
In 2019, the had a successful Kickstarter that raised $10,632 for the Muff Wader's companion product, Muff Spenders. These are suspenders with bottle opener, coozie, beer holder, two insulated drink pockets and a utility pocket. They cost $50. Unfortunately for Taylor and Garret, the manufacturer they had a deal with went out of business due to Covid-19 and they had to start over from scratch. Shipping has been delayed until at least Spring of 2021.
As for the Muff Wader, it's made of tough denim-like material and will set you back $85. It's clear the guys have problems with manufacturing. Any Shark can bring value to that side of the business. Will one of the Sharks bid on Muff Waders?
My Take on the Muff Wader
If I still lived in the north, I'd be into this product. They need to make bib overalls with shorts and lighter material for warmer climates. This looks too hot for Florida. I like the idea of the can holder and the pockets. This would be great for fishing.
As it's currently designed, I'm not a customer. Not because I don't like it, but because of where I live. Otherwise, I'm in.
Will Sharks Wade in and Invest?
My guess is these guys don't get a deal. If they do, it hasn't closed yet. The reason I say this is their website doesn't look "Sharky."  When a Shark invests in a business, the company's websites look slick. This one doesn't have that feel. Their Amazon Store is also out of stock – not a good sign.
That's not to say the Sharks won't be entertained by this pitch. I think the narrow niche audience isn't enough to get a Shark excited enough to part with their money for this.