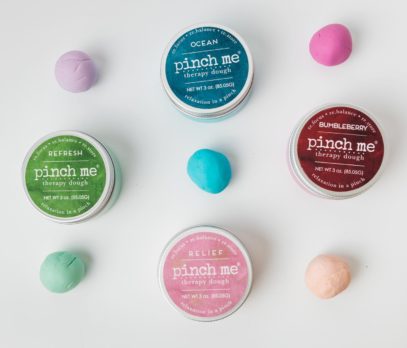 Pinch Me Therapy Dough creator Nancy Rothner knows exposing senses to different smells colors and textures helps you relax. That's why she designed her therapy dough to stimulate all three senses.  The putty is fun to fidget with and the calming colors and aromatic infusion centers your focus and helps you relax.
Nancy would know, she's a hypnotherapist who specializes in stress reduction.  Pinch Me came about because she wanted to develop an item for her clients. When your attention is focused on your hands, it helps you feel more centered, which can help you relax and reduce your stress.
The putty or dough comes in 12 "flavors:" Spa, Sun, Ocean, Relief, Zen, Surf, Bumbleberry, Refresh, Chill, Citrus, Spice and Beach. Each has its own unique color and scent. She's also developed Mist Me which she combines with her doughs on Amazon.  Pinch Me is not the only product in this space, there are several other therapy doughs out there. She's likely in the Tank to assure her brand is the segment leader.
My Take on Pinch Me Therapy Dough
I totally get this. I have several fidgety toys on my desk. This stuff reminds me of an upscale silly putty or play dough. I can still smell each product! I'd be willing to bet Nancy's doughs smell better.
I might actually pick some of this up. Since I quit smoking, I've relied on my fidget toys and since this stuff costs less than a couple packs of cigarettes, I can justify the purchase! I am IN.
Will Sharks Spend Some Dough on This Product?
My guess is Nancy does a deal. Her social media presence and web design have the feel of a company that hooked a Shark. She does all her business online, so Robert could be interested. Kevin may want it for his "Something Wonderful Platform." Daymond could definitely find a market, but I think he'll be out. Watch for Lori and Mark to bid on this too.
So I think four Sharks will bid. Perhaps we'll see another Mark/Lori partnership? I am calling a deal here but hedging on which Shark.