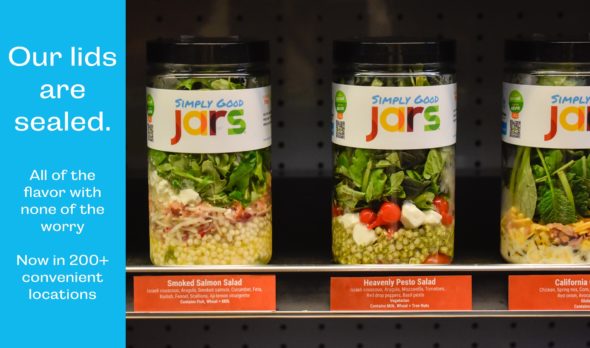 Jared Cannon first created his Simply Good Jars as a way for him to get a healthy meal while working full time and going to night school for his MBA. Cannon was a chef in some of Philadelphia's best restaurants for 18 years before he took the leap and started this business in 2017.
The jars themselves are a big part of this story. They're made from recycled plastic and he has a patent on the jars' design. The design has triple seals, so it keeps the food fresher longer and without preservatives. You can literally shake the jar for ten to twelve seconds and eat your meal right from the jar. He also incentivizes customers to send or bring the jars back to him; if you do, he'll reuse them and donate a meal to people in need.
Each jar weighs in at 9.2 ounces and costs $9.49. The fare varies weekly, but most consist of a protein, some sort of cheese, fresh greens and veggies. One example is the Southwestern Cobb Salad. They're currently available at some Philly area stores and even the airport. They also deliver in Philly using Go Puff, a national grocery delivery service. I think Jared wants a Shark to help him grow nationally.
My Take on Simply Good Jars
My first reaction was these jars are pricey, but when you factor in quality and convenience, I guess it's not a bad value. Since we've gone on our keto diet in this house, I've been ordering Green Chef. The meals are a tad pricey, but easy to cook and very good. The older I get, the more I want to either go out to dinner more or have cooking easy (or non existent) on a daily basis.
If I can get these, I'll give them a try. The wife cane take them for lunch, too. I have a feeling they'll be available beyond Philly soon. I am in.
Will a Shark Simply Make a Deal?
One thing is certain, Simply Good Jars is poised for growth. They are hiring, big time. The company is hiring in manufacturing, operations, product development, marketing, logistics, human resources and more.  They've also raised $2.4 million from five different venture firms. A Shark would fit well on this team.
Mr. Wonderful would be the perfect Shark for this business. He already has the infrastructure in place with Plated, the home cooking food box company he invested in after season 5. Mr. Wonderful is also used to selling food in a jar, like Wicked Good Cupcakes. With Mr. Wonderful on board, many of the logistical problems are already solved. Other Sharks may bid, but I think Mr. Wonderful does a deal with a royalty component.