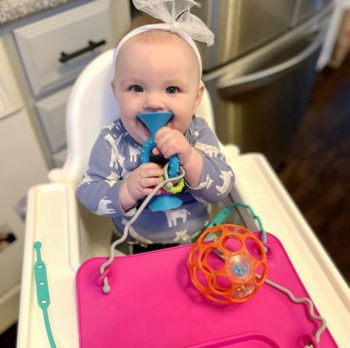 BusyBaby inventor Beth Fynbo got sick of "playing fetch" with her baby, that's whys she invented the product. Babies love throwing things from their high chairs to the floor. When they do this, whatever they throw gets dirt and germs on it. Not to mention it gets old quickly.
Busy Baby is an elegant solution to this problem. It's a food grade silicon mat with suction cups on it so it will stick to a smooth surface. On the corners of the mat are grommets for tethers that can hold baby toys and utensils in place so they don't find their way to the floor. You can even color on them with washable markets.
Fynbo and her younger brother, Eric, have been running the company since 2017. The siblings both served in the US Army, serving in Kuwait and Iraq respectively. Beth spent ten years in the Army then ten more in the corporate world before starting the BusyBaby business.
As for the product, they come in a wide variety of colors and are dishwasher safe. One of the mats will set you back $29.99 on Amazon. The company also sells extra tethers, rattles and teethers specially designed for the tethers. Fynbo likely wants cash for inventory plus intro to national retail chains. Will a Shark go to the mat and invest?
My Take on BusyBaby
As a father of five, I can attest that this is a real problem. I played fetch many a night at the dinner table. If this was around when my kids were little, we would have had one (or two). Beth would really have something if she found a way to keep babies from throwing their food. When my son was little, we called him "Swinefeld" because he was such a messy eater. We used to put a shower curtain under his high chair to catch the food he threw!
I think this is a winner. I am in.
Will Sharks Bite?
I think Beth will do a deal and will field multiple offers. My guess is she ultimately goes with Lori. The reason is in the Busy Baby video on this page, one of Lori's products is featured near the beginning of the video. When the baby in the video throws his stuff off his high chair tray, you'll see a Baby Toon hit the floor. Baby Toon is another food grade silicon product – one of several silicon products Lori invested in.
The placement of the Baby Toon in the video is like foreshadowing a deal. Like I said, I think other Sharks will bid, but Lori will win. She'd be the perfect partner for Beth.