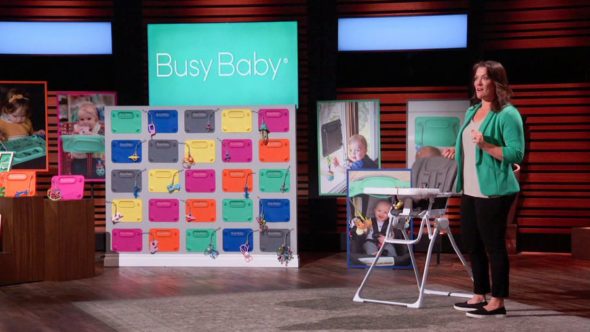 Beth Fynbo seeks a Shark for her Busy Baby mat in Shark Tank episode 1217. Her product is a silicon mat that secures baby accessories to any surface, preventing them from throwing spoons and toys on the floor. Beth got the idea after going to lunch with some friends and their one year olds. The kids played fetch with their moms – constantly throwing spoons and toys on the floor. When she went looking for a solution to that problem and  did,nt find one, she invented her own.
The Busy Baby is a food grade silicon mat with suction cups that will stick to any smooth surface. They're dishwasher safe, too. In each corner of the mat is an anchor for specially designed tethers that secure to a toy or utensil. This makes dropping stuff a thing of the past. It also makes meals a little less hectic and more germ free.
The mats come in a variety of colors. One mat with four tethers costs $29.99. She also sells teether, rattles and extra tethers on her website. She started the business with her younger brother, Eric, in 2017. In October, 2018, they ran an unsuccessful Kickstarter Campaign, but they persevered. Now they're found on their Amazon Store. They likely want a Sharks help with manufacturing and inventory. Will a Shark get busy with this business?
Company Information
Video

Posts about Busy Baby on Shark Tank Blog
Busy Baby Shark Tank Recap
Beth enters the Shark Tank seeking $250,000 for 5% of her business. She gives her pitch, tells her story, then hands out samples. She has two patents and good sales figures. Each unit costs $6 to make and they sell for $24.99. Sales to date are $343,000 and she expects to close the year (2020) with $900,000, $200,000 of which is profit.
Mark is out when Lori makes an offer of $250,000 for 20%. Lori wants to license it. Beth counters with 10% and Lori sticks to 20%. Robert says Lori's offer is better than one he'd make; he's out. Daymond says he doesn't want to be in the baby products space at this time; he's out. Kevin calls her a Rockstar because it's tough to  launch a baby product; he's out. Beth counters with 15% and says she can't go beyond 15%. Lori comes back with 18% and they negotiate some more. Beth sticks to her guns and they don't do a deal.
Busy Baby Shark Tank Update
The Shark Tank Blog constantly provides updates and follow-ups about entrepreneurs who have appeared on the Shark Tank TV show. The first rerun of this episode in July, 2021 took place just 4 months after the original air date. The company sold 6000 units in two days – more than they usually sell in a month and a half. Since airing, she also developed a baby spoon and a smaller mat to fit high chairs. She did finish 2020 with $1 million in sales and is projecting $4 million in 2021. As of April, 2022, it looks like Beth hit her goal for 2021!
In July, 2022, she announced plans to develop products for people with disabilities and for the elderly. In August, 2022, she announced the release of a toddler mat in October, 2022 – a larger mat for older kids that can be used for anything from a placemat to an arts and crafts table mat. Annual revenue is $4 million.