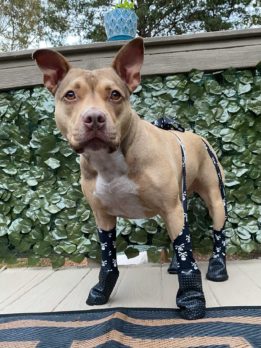 Lisa Baronoff invented WalkeePaws to protect her dogs' paws from road salts during winter time. Road salt seriously irritates paws to the point of them splitting and dogs can ingest toxins if they lick their paws after exposure to road salt. The only solutions are to thoroughly wash your dog's paws after exposure to road salt or have some kind of booty for your dog's feet.
Lisa didn't like the dog booties that were on the market, so she set out to create her own. The problem with dog booties is they fall of unless they're tightly tied around the dog's feet. Her design creates a sling that hold the booties in place without tying them. Think suspenders for leggings. The leggings keep the doggie's legs clean on messy days and the bootie portion keeps the paws dry and protected from road salt and other irritants. Walkee Paws cost anywhere from $25-$50, depending on the dog's size. They're available on Amazon.
She crafted the first prototypes out of old pantyhose and started the business in 2018. Before WalkeePaws, Lisa was a marketing executive at Fisher Price. That experience took her this far in her entrepreneurial journey. Now she wants a Shark to help her get to the next level.
My Take on WalkeePaws
When we lived in Massachusetts, we used to buy special salt for our driveway and walkways so we wouldn't hurt our dog. We also only walked her in the woods behind our house during winter so she wouldn't have to deal with salt. In Florida, the only salt we get on our roads is if someone spills a margarita.
I totally see the benefit of this product and if I still lived in the frozen tundra, I'd get these for my pooch. Our old dog got very bad cracking of her paws before we started using the special salt. The bad thing is, cities, towns and counties don't use the dog friendly stuff, so you nee to be careful or use Walkee Paws.
Will Sharks Think Pawsitively of this Business?
Pet related businesses are a mixed bag in the Shark Tank. In the past, Daymond has vocalized his frustration with pet businesses he's backed. He says it's a tough business. I'm not sure about how this pitch is going to go, but I'm leaning towards no deal – which probably means she'll get one!