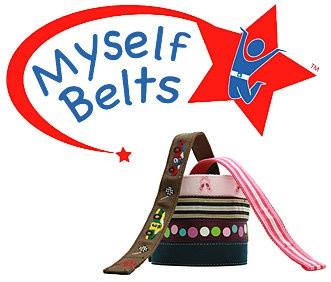 Talia Goldfarb hopes the Sharks bid on her Myself Belts, a line of belts for kids (and adults) that uses Velcro for a belt buckle, in episode 605. Talia found a need for a good kids belt when her son was being potty trained and kept stretching his pants out when going to the bathroom. She couldn't find a belt that he could use himself, so she collaborated with her sister, Danielle, to come up with a solution.
The solution the sisters came up with was Myself Belts, a patented innovation in belts for kids. Anyone can fasten a Myself Belt with one hand. The first Myself Belts were geared towards kids with fun designs and personalized options. They realized adults with dexterity issues could benefit from the belts and came out with an adult line, too. Myself Belts are available in canvas with dozens of designs for kids and in leather for adults; they cost anywhere from $16.95 for the kid's sizes to $28.95 for adult sizes. Myself Belts are available on Amazon.
The company has been in existence since 2004 with the mission to "promote independence and boost self-esteem by allowing children to easily fasten and unfasten their belt on their own." They're likely looking to the Sharks to step up to the next level and get into national retail chains.
Will Myself Belts fasten a a deal with a Shark?
Myself Belts Shark Tank Recap
Talia enters seeking $60K for 10% of the business. She explains how she created Myself Belts and explains she wants to do licensing and expand into international sales. She hands out some belts and demonstrates the product.
Mr. Wonderful immediately jumps on the concerns of "too many SKU's" due to the different sizes. Talia had $205 K in sales last year and explains she's had a slight decline in sales due to refocusing on online sales. Retail stores were tightening up in the past few years. Mr. Wonderful thinks she should have a bigger market share.
When Talia places the blame on the economy, the Sharks jump down her throat. Mr. Wonderful doesn't think her sales are high enough and he goes out. Mark scolds her for having level sales and waiting for wholesale to "open up" again. Lori says she should thrive in a down economy and she questions Talia's drive; she's out too. Robert doesn't think she's hustling enough and he goes out too. Mark thinks the product is good but Talia's not "a killer," so she's out.
Talia asks Daymond to join her and become a "belt mogul" right before a break. When they return, Daymond scolds the other Sharks for being too hard on Talia. He likes her strategy and thinks her sales were level enough to justify refocusing on the online business. Daymond offers $75K for 25%.
Talia counters at 20% and the other Sharks laugh. Daymond says he wants his partners to question things, but he sticks to his offer and Talia accepts.
RESULT: DEAL with Daymond $75K for 25%
Myself Belts Shark Tank Update
The Shark Tank Blog constantly provides updates and follow-ups about entrepreneurs who have appeared on the Shark Tank TV show. The deal with Daymond closed. In an episode 712 update segment, Daymond hosts Bombas, MySelf Belts, Sun-Staches, and Cozy Bug at an entrepreneurs workshop about increasing internet sales. Celebrity chef Rocco DiSpirito is cooking for the group and giving advice on social media. He says businesses have to engage fans constantly to increase sales. They share a gourmet meal and Daymond says these businesses have combined sales of over $11 million since appearing on Shark Tank. He thinks they are all going to an entirely new level.
Fast forward to November, 2022 and Talia is still in business with $1 million in annual revenue.
Posts About Myself Belts on Shark Tank Blog
Myself Belts Information
Video