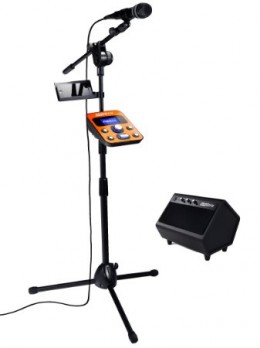 John Devecka and Eric Berkowitz, two of the creators of Guitar Hero, pitches SingTrix, a karaoke machine for the 21st century, in Shark Tank episode 609. What Guitar Hero did for guitar god wannabees is what SingTrix hopes to do for karaoke. The SingTrix kit allows users to plug in a smartphone or tablet and play music. Whether you play tunes from your own library, Youtube, or from the 13,000 plus songs in the Singtrix app's library. The unit automatically removes the vocal tracks so you can sing along.
The Singtrix Party Bundle comes with everything you need to start rocking out: 40-watt 2.1 channel speaker with built-in subwoofer, two custom microphones, an adjustable mic stand, and holders for your smart phone or tablet.
What makes Singtrix unlike any other karaoke machine is it allows users to add harmony or even duplicate their favorite artist's voice! People can adjust the level of harmonic vocal compensation which lets so-so singers sound like a pro and good singers sound like a rock God. This product literally turns anyone into a real rock vocalist!
Will Mr. Devecka and Mr. Berkowitz harmonize with a Shark?
SingTrix Shark Tank Recap
John and Eric come in and ask for $1.5 million for 5% of the company. They explain the Sing trix and demo the product. The Sharks laugh when John sings without Singtrix. When he sings through the Singtrix, the Sharks are AMAZED! They cycle through some of the special vocal effects and the Sharks are impressed.
They explain how they sold their patents to Activision for Guitar Hero and tell the Sharks they've sold $1.2 million in the past 6 months. A large consumer electronics distribution company who wants to distribute 30,000 units this year. The guys say they want to ally with partners who will make them better. Mark says he'll be a customer, but he's out.
Mr. Wonderful offers.$1.5 million for 50% and if he gets his money back in 18 months, he drops to 10% with a $2.50 per unit royalty. Robert offers $1.5 million for 30%. Lori then offers $1.5 million for 30% and backs down to 10% after 18 months with a $2.50 royalty. The Sharks argue among themselves, then Daymond then offers $1.5 million for 25% and says he'll finance all future orders.
The guys counter with $1.5 million for 7%. Daymond and Lori quickly back out as does Robert. Kevin says they are the classic "you're dead to me," and he goes out.
RESULT: NO DEAL
SingTrix Shark Tank Update
The Shark Tank Blog constantly provides updates and follow-ups about entrepreneurs who have appeared on the Shark Tank TV show. The deal with the distributor they mentioned in the Tank did materialize. VOXX Electronics acquired worldwide distribution rights in late 2014. In August, 2017, their Chinese factory burned to the ground. The scene was completely shut down for months while the fire was investigated. The factory owner didn't offer any details and basically avoided all contact. It went back online in late 2017 and shipped them a couple thousand units.
Shortly thereafter, the factory shut down again for Chinese New Years. Next, they said they were closing until the end of the summer of 2018 to modernize. The Singtrix guys played these troubles close to the vest which strained the relationship with VOXX. VOXX terminated the relationship in 2018. Since they had no manufacturing insurance, the business had to absorb the sales losses.
In 2019, they ran a wildly successful IndieGoGo Campaign that raised $330,739. The crowdfunding allowed them to develop a less expensive system with the same features as the original product. They also entered into a new relationship with a different Chinese factory. IndieGoGo helped get them on their feet again and allowed them to get back into production full force.
Fast forward to August, 2022, and they are back in business with $5 million in annual revenue.
Posts About SingTrix on Shark Tank Blog
Purchase Orders Make "No Deal" a Good Deal in the Tank
SingTrix Information
Video