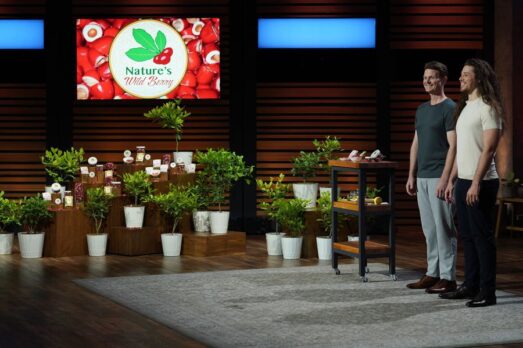 Hank Watt and Juliano Bonanni hope to start a feeding frenzy for Nature's Wild Berry, their "miracle berries" that make anything sweet, in Shark Tank episode 1418. The Miracle Berries are actually Ledidi Berries, a berry from a bush that is originally from West Africa. Hank and Juliano grow them on a farm outside of Miami then they de-seed them, halve them and freeze dry them with a patent pending process. Their products are sustainably-grown, organic, non-GMO and kosher.
The magic behind Nature's Wild Berry is when you eat just one, it will make anything tart or sour taste sweet. This is due to a glycoprotein called miraculin which actually binds itself to your taste buds and  activates the sweet receptors which results in the sweet taste. The effect lasts about 30 minutes.
The guys started the business in 2016, but Juliano introduced Hank to them in 2013. Hank made a liter of healthy, but bitter, juice per day and, while using the berries as a sweetener, lost 80 pounds in a year and a half. Other uses for the berries include diabetes, obesity, taste disturbances in people treated with cancer drugs, and other conditions. They sell the berries in jars or pouches and they have gummy bears made from the berries too. You can buy the products from the company website and Amazon. They likely want a Shark's help expanding their reach.
Company Information
Video

Posts about Nature's Wild Berry on Shark Tank Blog
Nature's Wild Berry Shark Tank Recap
Hank and Juliano enter the Shark Tank seeking $80,000 for 15% of their business. Hank is sucking on a lemon and he says "because of this berry right here, it tastes like candy." He says Nature's Wild Berry will turn anything sour, tart or fermented sweeter than sugar. Juliano asks how it works and Hanks says a glyco protein binds to the taste receptors in your mouth blocking anything sour and making it sweet. Juliano tests a pickle, sour cranberry juivce and apple cider vinegar – they all taste sweet!
The Sharks taste their samples. They taste sour foods, then try a miracle berry. After tasting the sour foods, they're amazed. The effect lasts about an hour. Hank says the berries transformed his life. He weighed 250 pounds and identified as an emotional eater. Juliano created a healthy green juice and Hank used the berries to make it taste sweet. The berries let you eat healhty foods, but they taste sweet like candy.
The travel jar sells for $26.99 and costs $2.64. They're projecting $344,000 for the year (2022). They sell direct to consumer on their website and Amazon. They'll make about $50,000 in profits on those sales. Their biggest challenge is educating consumers. There are others selling these berries, but they grow their berries in the USA. Hank put $120,000 into the business and Juliano put in $20,000.
Kevin offers $80,000 for 33% plus a $5 per unit royalty until he recoups $160,000. Daymond offers $80,000 for 30% with no royalty. Kevin modifies his offer to $80,000 for 20% with the same royalty arrangement. Lori offers $80,000 for 20% plus a $3 per unit royalty until she recoups $80,000. Mark asks what the accelerant is since they can't make a weight loss claim. They say it's for people who struggle with sweets. Lori interupts and says she'd like to know what they think of her offer. Barbara clears the deck and goes out. Mark and Lori team up to offer $80,000 for 20% plus a $3 per unit royalty until they recoup $80,000 and Hank says "deal!"
Nature's Wild Berry Shark Tank Update
The Shark Tank Blog constantly provides updates and follow-ups about entrepreneurs who have appeared on the Shark Tank TV show.
After the episode originally aired, the company sold out due to "enormous demand." They are still taking pre-orders two months after the original air date, which coincides with the first rerun of this episode. Hank told me via email they are working double time on production and they are back in stock to be ready for that rerun on 7/22/2023. He also said "the Shark Tank effect is very real!" The first rerun of this episode occurs in July, 2023 and at this time, the deal with Mark and Lori has closed.
The Shark Tank Blog will follow-up on Nature's Wild Berry & Hank Watt and Juliano Bonanni as more details become available.