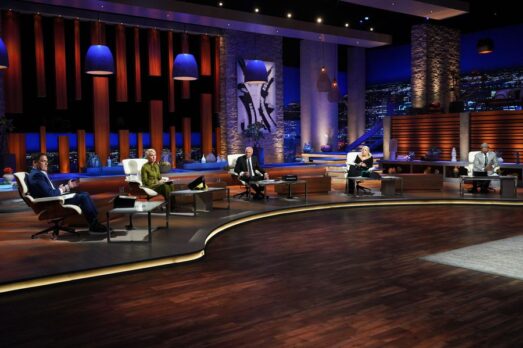 Shark Tank episode 1418 features Mark, Barbara, Kevin, Lori and Daymond. Together, they'll evaluate four new businesses seeking both their cash and mentorship. Will the Sharks make any deals tonight?
Hank Watt and Juliano Bonanni introduce the Sharks to Nature's Wild Berry, their freeze dried "miracle berries" that make sour foods taste sweet. Sophie Nistico wants to do a deal for See The Way I See, her line of clothing that promotes mental health awareness. Tomo Delaney gives the Sharks a taste of Noshi, his "food paint" made from organic fruit puree. Monique Little and David Dundas want to wrap up a deal for You Go Natural, their line of satin lined head wraps, turbans and durags for people with textured hair. Which business snags a Shark tonight?
Earlier in season 14, Mark Cuban and Peter Jones gave entrepreneur Justin Baer $300,000 and a $700,000 line of credit for 10% of Collars and Co. In tonight's update segment, we'll see how the company is doing in the 9 or so months since inking a deal with the 2 Sharks.
The Sharks
---
Daymond John
Barbara Corcoran
There are 26  Shark Tank Episodes for Season 14. This season features the six "regular" Sharks: Mark, Daymond Kevin, Lori, Barbara and Robert. There are two new guest Sharks for season 14: Actress Gwyneth Paltrow and Door Dash founder Tony Xu. Returning "recurring" Sharks are Emma Grede, Peter Jones, Kendra Scott and Daniel Lubetzky. Casting is currently closed, but it never hurts to get a head start on season fourteen! If you would like to appear on the show, check out our Auditions and Casting information.
Episode 1418 – The Shark Investors and Entrepreneurs
The Shark Tank Episode 1418 entrepreneurs will make their best pitch to the panel of five Shark investors who will use their own money if they choose to invest. The Shark Investors negotiate on the spot without any previous information, which differs from typical negotiations between venture capital investors and entrepreneurial start-ups.
Companies pitching the Shark Investors must go through a rigorous due diligence process before an on-air deal is completed. Shark Tank Blog follow ups help you keep track of the companies that end up successful and the ones that don't complete their deal.
Thank you for reading SharkTankBlog, the number one site for Entrepreneurs, Investors and Fans. Our content updates multiple times day, giving you the latest information on Episode 1418, Season 14, and all other seasons and episodes.
Episode 1418 Press Release
Shark Tank: "Episode 1418"
Entrepreneurs come into the Tank eager to secure a deal with a Shark. Featured pitches include "miracle" berries, a clothing brand founded on mental health, edible food paint for children and satin-lined headwraps.
First into the Tank are entrepreneurs from Santa Monica, California, who introduce their freeze-dried miracle berries which magically make any sour food taste sweet. Next into the Tank is an entrepreneur from Trumbull, Connecticut, who created their inclusive clothing brand founded on a mission to normalize mental health; while a stay-at-home dad from New York City hopes to make meal-time fun with his edible product that encourages children to be creative while they eat. Last into the Tank are siblings from Dallas who pitch their line of headwraps, made to protect and promote healthy hair while eliminating friction. In a "Shark Tank" update, Justin Baer from Bethesda, Maryland, talks about their clothing company, Collars & Co, a line of high-quality polo shirts whose growth has skyrocketed since partnering with Sharks Mark Cuban and Peter Jones, securing over 8.7 million in sales.
The Sharks in this episode are Mark Cuban, Barbara Corcoran, Daymond John, Lori Greiner and Kevin O'Leary.