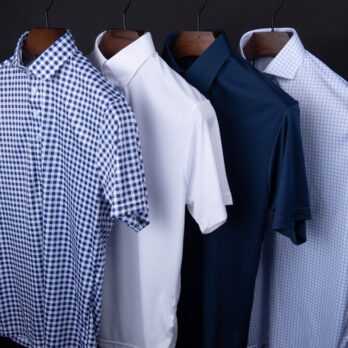 Justin Baer seeks the right fit for Collars and Co, his line of combination polo shirts with dress collars, in Shark Tank episode 1408. Baer started the business with a 500 shirt order in 2021. When a Tik Tok video of him touting the shirts went viral, he was inundated with orders and the brand took off. Apparently, Baer got the idea while working in New York. He didn't like the feel of a traditional, button down dress shirt, so he made polo shirts with dress shirt collars. You can wear the shirts with a suit jacket and tie at work, then take off the jacket and tie for after work casual attire.
Baer is no stranger to entrepreneurship. He's founded 6 different companies since 2002, including a  company he's still running called MemberText | TextFox | PropertyChat 365 | Textology, which offer niche text marketing solutions for a variety of industries. He had some challenges starting Collars and Co due to the supply chain horrors during the Covid-19 pandemic. He manufactures in Pakistan and shipping costs were spiraling upward and affecting his bottom line.
The shirts themselves have been very well received by the public. He currently offers men's shirts, but he has plans for a woman's line. They come in a wide variety of patterns, colors and collar styles. Prices are $69-$74 depending on which style you pick. Nick Faldo is a celebrity endorser of the shirts. The company is growing fast: reportedly 40% per month! Baer likely wants a Shark's help scaling the business.
Company Information
Collars & Co. website
Video

Posts about Collars and Co. on Shark Tank Blog
Collars and Company – Dress Golf Shirts
Collars and Co. Shark Tank Recap
Justin enters the Shark Tank seeking $300,000 for 4% of his company. Daymond looks astonished at the valuation and exclaims "four percent?!" Lori chuckles. He shows a board that says "Business Casual 101" and then unveils a photo of a man in a sweater with a collared shirt. It's the "go to" business casual look around the world. In New York, they call it the "mid town look." Justin hates wearing a long sleeve dress shirt under a sweater. The shirts can develop "floppy collar" too. The sleeves bunch up too. He knew there had to be a better way.
That's why he invented the dress collar polo shirt. It has the firm collar of a dress shirt but wears like a comfortable polo. You can even wear it with a tie in addition to the vest or sweater. He says he's created a new category of shirt and wants a Shark to help him create the next world wide brand. The Sharks examine their samples. He has four collar styles. Lori likes the material, she says it feels stretchy and comfortable.
Peter Jones says it's a very interesting idea, then he questions the valuation and asks for sales figures. He started last year (2021) and he's sold 92,000 for $5.4 million, all direct to consumer online. The Sharks are impressed. Profits are 20% net. Daymond says it's a well made product but there's two things he hates: the mid town look and the valuation; he's out.
Who's In?
Mr. Wonderful says they've had a lot of shirt companies on Shark Tank but none that have gone to $5 million so quickly. He considers that a hurdle and thinks Justin has some execution skills the others didn't have. Justin says he's been doing internet marketing for 20 years and the secret is his sales funnel. Next, Lori says she thinks what he's doing is fantastic, but it's not for her; she's out.
Peter Jones says he's in a similar business and asks about costs.  The shirts cost $15 landed to make and they sell for $65-$75. Mr. Wonderful says he's never made an offer on a shirt company, but he's going to make one for this company. 4% doesn't get him out of bed; he offers $300,000 for 10%. Justin says "no way" and tells Kevin if this were a slow growth VC deal that would be one thing. Collars and Co. is growing at 28% a month and Justin has no other investors.
Peter says Justin has dismissed an offer that was pretty good and Justin says "no way" again. Justin says his ask reflects a $7.5 million valuation but the company is really worth $20 million. Mark aks what Justin needs and he replies "inventory, marketing and we need to build a team." He'll need those things to go to $50 million and he may need a line of credit too. He also wants a mentor. Daymond says "I'll mentor you, take the 10% offer." Peter says he knows this market and it's brutal; in 6-12 months this could go out of fashion. Justin doesn't believe it. Daymond says inventory could start eating into profits and that everything goes out of style eventually.
Peter says he has infrastructure for this type of business in place and he could sell it all over the world. He offers $300,000 for 10% and Justin again says "no way." Daymond starts arguing with Justin and Mark says "he's out" to shut Daymond up. Mark thinks $300,000 isn't enough and Justin says he'll probably need a $700,000 line of credit as well. Mark says he could offer a line of credit at 8 or 9 which Justin laughs at and Mark says interest rates are going up. Justin says he has hard assets. Mark says he and Peter give Justin the $300,000 plus the $700,000 line of credit and asks what equity he'll offer them.
After a break, Justin says he'd do that deal for 5%. All the Sharks express astonishment and shake their heads. Justin says 10% is too much and Mr. Wonderful says "I'm out." Peter says he knows the value of this business and Justin has done well to get a 10% offer. Justin says he's going to do $10 million in sales this year (2022) and Peter is valuing the company too low. Peter expresses his frustration with Justin and thinks he's dismissing the value of the Sharks. Justin says he's going to do $10 million again and Lori says with Peter and Mark he could be doing $80 million.
Mark says "if either one of us doesn't do this deal, our lives aren't going to change, we're still going to be bleeping rich." Mark says there is no amount he could pay to have he and Peter help him. Justin says he doesn't like the $3 million valuation the Sharks are offering and Peter goes out. Mark goes out too and Justin asks if Mark would do it for 7%, Mark says no. Peter says Justin will regret this decision some day. Mark gives Justin one more chance at accepting the offer of $300,000 and a $700,000 line of credit at a market rate interest for 10%. Peter says he's in on the deal too and Justin accepts.
Collars and Co. Shark Tank Update
The Shark Tank Blog constantly provides updates and follow-ups about entrepreneurs who have appeared on the Shark Tank TV show. In the immediate aftermath of the show's original air date, Collars and Co. had a 300% increase in website traffic and a 100% increase in sales. Mark Cuban told CNBC that Justin reminded him of his younger self. The deal with Mark and Peter closed. Justin told MR "Mark and Peter have been awesome. They are in touch and always extremely responsive. I've gone back and forth with Mark on email some nights until 1:00 am." The company also launched an outerwear collection and introduced brand ambassadors former New York Giant Tiki Barber and golf champ Sir Nick Faldo.
The company plans on doing wholesale in the first or second quarter of 2023 and they openned a pop-up store at Tyson's Galleria in McLean, Virginia from November 20 through December 4, 2022.
This business gets an update segment in episode 1418. In the update, Justin says in the 18 months before Shark Tank, he did $5.4 million in sales. In the two months since doing the deal with Peter and Mark, he's done $8.5 million in sales. The company introduced a women's line which sold out in one week. Justin is meeting wwith buyers from Nordstrom, Zappos and Saks Fifth Avenue. Due to the increased volume, the company went from an 8000 square foot warehouse to a 20,000 square foot warehouse. Peter got the business international exposure with his website localize. Mark says this will be a $100 million company before long. Justin annouces he's donating over $50,000 worth of products to Hire Heroes so veterans can look good on the job. He wishes his parents were alive to see his success, but he's enjoying being a good example to his kids. His parting advice for entrepreneurs: "know your worth."
The Shark Tank Blog will follow-up on Collars and Co. & Justin Baer as more details become available.