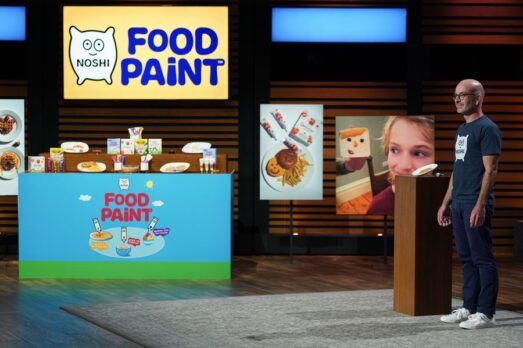 Tomo Delaney hopes the Sharks take a taste of Noshi, his edible food paint, in Shark Tank episode 1418. He wanted to make something to make meal times fun for his kids who happen to be picky eaters. He got the idea from a woman named Pegi he visited as a part of an elderly companionship program he volunteered for. She thought introducing color to meals would perk things up and Noshi Food Paint was born.
The "paint" comes in three flavors: strawberry, pear and blueberry. They're made with organic, quick frozen fruit, organic gum powders, pear juice concentrate, organic beet powder, vitamin C and less than 2 grams of sugar. The paints come in tubes that let kid decorate their meals. A three tube pack costs between five and six bucks.
You can find Noshi at Wal Mart, Thrive Markets and other retailers. Tomo did a licensing deal with Crayola Crayons and sells the paints in tubes that look like crayons. He also did a licensing deal with Peppa Pig. Kids love decorating their food and parens can rest assured the kids are getting a healthy, but fun, snack alternative. Tomo likely wants a Shark to help with broader distribution.
Company Information
Video

Posts about Noshi on Shark Tank Blog
Noshi Shark Tank Recap
Tomo enters the Shark Tank shouting "no, no, no,no." He says he's a stay at home dad and father of two picky eaters and he can't tell them how many times he's heard the word "no." "No" is a super power for young kids most often used at the dinner table. Kids will do anything to avoid eating the food on the plate in front of them. He says he wants to turn those "nos" into "yesses" with Noshi, edible food paint that turns any meal into an art class. The options are limitless, like a child's imagination. Noshi contains no preservatives, artificial colors or artificial flavors. He's seeking $250,000 for 17% of Noshi.
The Sharks examine their samples and start playing with their food. Kevin recognizes the Crayola brand and Tomo says he has several licensing deals. A container sells for $5.46 and costs $2.72 to make. Wholesale is $3.70.Mark says the margins are awful. Tomo wants the Shark money to buy another piece of machinery that would bring the cost down 60 cents. Sales last year (2021) were $117,000. So far in 2022 (mid summer), he's sold $80,000 and projects $200,000. he sells in 370 Wal Mart stores. He isn't selling direct to consumer because his wife has long Covid and will likely never work again. She's being cared for in England by her parents while Tomo raises his kids and gets the business going.
Tomo's background is in fashion and when his son was born in 2010, his wife had a good job so he stayed at home to raise the kids. He took 18 months to formulate his products and started the business in 2017. Noshi went into 80 Albertson's and 120 Safeways; he sold $20,000 that year. In 2018 and 2019 sales stayed the same because the packaging was wrong and he left the supermarket shelves. In 2020 he got into Wal Mart and they've stuck with him for 3 years. Sketchup is going into 1500 stores in 2023. He's sold through on the last three production runs.
Kevin is bothered by the low sales and that Tomo is a one man show. He says one of the other Sharks may want to take this journey, but it's not for him; he's out. Barbara thinks it should be a gift item. She's not confident where it's positioned; she's out. Lori thinks it's a clever idea, but there's not enough there for her to invest; she's out. Daymond thinks it's a novelty item and at $6 per meal it's too expensive; he's out. Mark has a problem with shelf presence – the box says nothing to him. Mark likes the Crayola angle and he thinks Tomo could make more money selling online. He asks Tomo if he'd be willing to sell single units as an impulse item and Tomo says yes. Mark offers $250,000 for 25% and Tomo agrees.
Noshi Shark Tank Update
The Shark Tank Blog constantly provides updates and follow-ups about entrepreneurs who have appeared on the Shark Tank TV show.
The first rerun of this episode in July, 2023 is just 2 months after the original air date. The deal with Mark closed. When Tomo taped the segment, he had no online sales presence. He now has an Amazon Store and sells direct through his website in addition to the Wal Mart presence.
The Shark Tank Blog will follow-up on Noshi & Tomo Delaney as more details become available.