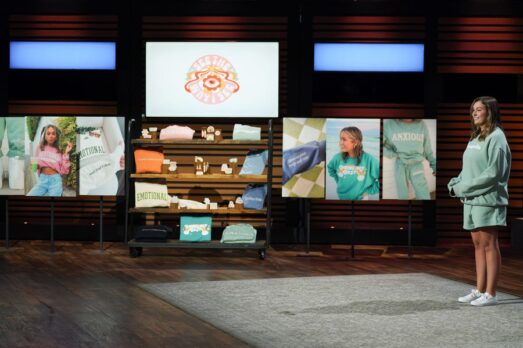 Sophie Nistico hopes to find a fit for See The Way I See, her clothing line that seeks to de-stigmatize mental health, in Shark Tank episode 1418. Sophie has suffered from migraines since she was 15. The migraines are brought on by her severe anxiety. She began creating stickers from her artwork which she posted on Instagram. She decided to put some of this  art on sweatshirts and tee shirts and her business was born.
The clothing contains phrases that help people work their way through whatever mental health issues they may be experiencing. For instance, there's a sweatshirt that says "Anxious" on the front of it with the phrase "this too shall pass" on the sleeve. Another says "Practice Empathy" on the front with the phrase "always act kinder than you feel" on the sleeve. In additionto sweatshirts, she sells tee shirts, sweatpants, shorts, phone cases, tote bags and more.
Apparently business is booming. She used to run the business out of her parents' home, but she recently moved into a warehouse. She's sold over $1 million worth of her clothing in only one year in business. Her goal is to " help anyone who struggles with their mental health, and bring more awareness and normality to the subject." She's been operating on a "sell out of product then restock" mode for a year. She likely wants a Shark's help getting consistent inventory.
Company Information
Video

Posts about See The Way I See on Shark Tank Blog
See The Way I See Shark Tank Recap
Sophie enters the Shark Tank seeking $250,000 for 10% of her business. She says she cries and she cries a lot. Everyone cries, she's even seen Kevin shed a tear in the Tank. Sophie's on a mission to destygmatize mental health because it's not something we should hide but rather embrace. That's why she created See the Way I See, a size inclusive, mental health awareness clothing brand that emphasizes positive affirmation in a way that's never been done before. They add signature, positive affirmations on the sleeve. In addition to apparel, she sells rings, stickers and keychains that will keep you going throughout the day. She's built a community that's with her every step of the way in breaking down barriers to mental health issues.
The Sharks examine their samples and Barbara asks Sophie how she came up with her business idea. Sophie says since she was young, she's had a passion for helping others and she knew she wanted to be a nurse. In high school, she developed severe anxiety which continued through nursing school. It got to the point where she decided to go part time and that's when she refound her passion for art. She took $500 from her bank account and bought a sticker making machine and started selling stickers with positive affirmations online. She continued to reinvest the money she made until she bought her first order of crew necks and she sold 100 in 2 days.
Sophie spends nothing on advertising, all sales are coming through her social media channels. Kevin asks about sales and Sophie says $260,000 – in 24 hours! The Sharks are impressed. Mark says she's selling with "drops" and Sophie says she tries to do one per month. Crewnecks cost $21 landed and sell for $60. Hoodies cost $25 landed and sell for $75. Year to date sales are $790,000 and Sophie is the only employee. Mark congratulates her on making "a boatload of money." When she tells the Sharks she has $450,000 in the bank, they applaud.
Daymond wants to know why she needs a Shark when she's doing so well. Sophie is proud of how far she's gotten on her own, but she has no business background and feels like she needs a mentor. Kevin questions the valuation and Sophie says she's done $2.3 million in lifetime sales and she'll finish 2022 at $1 million and 2023 at $1.75 million. She sees the business coninuing to grow and scale. In her first year (2020), she did $900,000 in sales and profitted $115,000. 2021 saw $640,000 in sales and $235,000 in profits.
Kevin says she's killing it and is doing better than 90% of the people who stand in front of him, but he doesn't know how to help her; he's out. Daymond applauds Sophie for what she's doing but says she doesn't need him; he's out. Lori says Sophie is already a good business women and she wouldn't feel comfortable taking a piece of her business; she's out. Mark applauds Sophie and says she should grow with her community not create a team that would suck cash out of the business; he's out. Barbara says Sophie's greatest strength is her vulnerability and she's be hard pressed to convince anyone she was the least bit anxious in the Tank. Barbara asks what she could do for Sophie and she says Mark's comment about not needing a team has resonated with her. Sophie says maybe wanting a Shark is the "overthinker in me." Barbara says since she's come full circle on that, she's out.
See The Way I See Shark Tank Update
The Shark Tank Blog constantly provides updates and follow-ups about entrepreneurs who have appeared on the Shark Tank TV show.
The first rerun of this episode in July, 2023 is just 2 months after the original air date. Since then, Barbara ordered a bunch of crewnecks and hoodies from Sophie who continues to grow her community. There were some rumblings after the original air date about products "lost in transit," but thos issues appear to be ironed out.
The Shark Tank Blog will follow-up on See The Way I See & Sophie Nistico as more details become available.