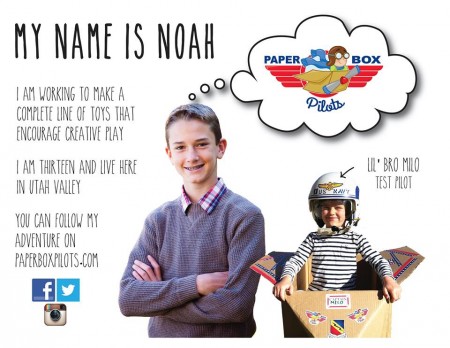 13 year old Noah Cahoon introduces the Sharks to Paper Box Pilots, his kit for converting old paper boxes into airplanes and race cars, in episode 606. Joining him in the Shark Tank are his dad, Brian, and CFO (Chief Fun Officer) – little brother Milo.
Paper Box Pilots is a sticker kit that allows kids to transform a regular box into an imaginative toy. There are currently three kits: fire engine, airplane, and race car. Each kit comes with instructions on creating the perfect box/toy and costs $7.99.
Noah got the idea for Paper Box Pilots when he was Milo's age. His dad would help him make paper box planes and he'd draw the instruments and decorations to make it more realistic. When he got tired of drawing, he'd print images and tape them to the boxes. Ten years later, when little brother Milo was getting into the paper box airplane phase of his young life, Noah had an "AHA moment" and the business was born.
Along with his dad, Noah designed a set of stickers to decorate paper box vehicles. They got them professionally printed and launched the business in the summer of 2013. They're shipping internationally now and Noah gets a lot of satisfaction knowing he's helping make kids happy with his product.
Paper Box Pilots is likely looking for a Shark to help get them into retail chains. Will this business fly in the Shark Tank?
Paper Box Pilots Shark Tank Recap
The segment opens with Noah and Brian "at home." Noah explains he has trouble going and pitching retailers. When they enter the Tank with CFO Milo and ask for $35K for 25% of the business. Robert gets up to try a box they've brought in, but there are questions about why they don't sell the box. Mr. Wonderful asks for clarification.
Mark thinks they've set a high expectation because their boxes look too nice. Brian says they don't encourage fancy boxes. They're in 23 retail outlets and they sell online. Brian said he always wanted to be an entrepreneur, so he's helping Noah.
Mr. Wonderful offers $35K for 50% contingent upon them supplying the box. Mark says he can't add value, so he's out. Lori loves it, but she doesn't think it's scalable so she's out, but she offers Noah an internship in a few years. Robert wants to provide the whole box and cautions them against working with Kevin and he makes the same offer as Kevin.
Barbara compares Noah to Ryan of Ryan's Barkery and she offers $35K for 35% and she wants to make it "girl friendly," provided they offer an option with a box included. Robert then ups his offer to $50K for 50%.
After a break, Noah decides to go with Kevin because of his toy industry experience. RESULT: $35K for 50% with Mr. Wonderful.
Paper Box Pilots Shark Tank Update
The Shark Tank Blog constantly provides updates and follow-ups about entrepreneurs who have appeared on the Shark Tank TV show. They did the deal with Kevin and sales increased ten fold in the weeks following their original air date. At some point, the business shut down and Noah went on to college. He'll graduate from BYU in 2024 and does free lance photography.
Posts About Paper Box Pilots on Shark Tank Blog
Paper Box Pilots Information
Video