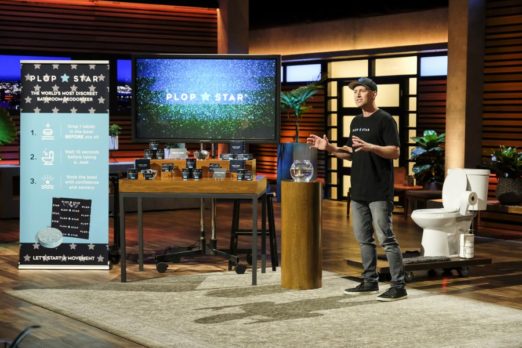 Tyler Jay seeks a partner for Plop Star, his discreet bathroom deodorizer that lets you "rock the bowl," in Shark tank episode 1105. Jay is also the founder of Tandem, Inc, a Chicago based production company that creates "iconic, large and small branded content films." That experience likely came in handy when producing his company video.
Mr. Jay never felt comfortable using a bathroom outside his home because when he plopped, he didn't like leaving "evidence." He searched for a solution that would deodorize the smell from old number two. When he couldn't find a suitable, discreet and portable solution, he made his own.
Plop Star is a small tablet that you drop into the toilet bowl ten seconds before taking a seat and doing your thing. It's packed with essential oils that leave a pleasant citrus smell once the deed is done. The tablets come individually wrapped and are about 2 inches in diameter. A pack of 30 costs $12.99.
Jay sells primarily on Amazon for now, but he's looking to get into retail. There are Sharks on tonight's panel that could accelerate the growth of this product. Will a Shark think this Plop is a star or a flop?
Company Information
Video

Posts about Plop Star on Shark Tank Blog
Plop Star Shark Tank Recap
Tyler enters seeking $150,000 for 10% of the business. He enters riding on a toilet, which gets a chuckle. After explaining his product and handing out samples, the questions begin. His main competitor is a product called Poo Pourri and he wants to take them on.
The Sharks aren't seeing things Tyler's way though. There is concern about the relatively well known competition. The Sharks don't like that there doesn't seem to be any strategy coming from Tyler. Ultimately, they think there is too much work involved to see a return and all the Sharks go out.
Plop Star Shark Tank Update
The Shark Tank Blog constantly provides updates and follow-ups about entrepreneurs who have appeared on the Shark Tank TV show. Plop Star is still in business as of July, 2020. You can purchase the products on Amazon.
As of July, 2021, the Facebook page has been quiet for about a year. Amazon lists the product as "Currently Unavailable" and the company website is "sold out." In December, 2021, the company introduced a spray and it is available on the website and Amazon. As of May, 2023, the original products are still unavailable. Lifetime revenue is estimated at $1.3 million.