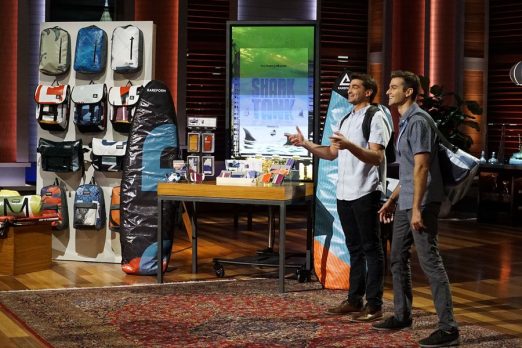 Entrepreneurial brothers Aric and Alec Avedissian want to bag a Shark to invest in RareForm, their business that repurposes vinyl billboards into backpacks, duffel bags, wallets and more. They chose to work with billboard vinyl because it's durable, waterproof, unique, lightweight, and eco-friendly. They collect over 20,000 pounds of billboard vinyl per month from all over the USA.
Once they have the vinyl back at their warehouse, they clean it, cut it, and sew it into the many items they sell. Since each billboard is unique, each product they create is unique. They even do custom orders. Backpacks cost between $70 and $120 and customers rave about the quality.
They started the company in 2012. They sell in over 200 surf shops, Whole Foods, REI, Amazon, and many other retailers nationwide. Billboard Vinyl would usually be thrown in a landfill. Alec, an avid surfer, discovered the idea in Central America when a friend showed him a bag made from billboard vinyl. He jumped full force into RareForm just two weeks before getting married. Initially, he got his raw materials by cold calling big advertising companies and made his first bag with the help of an auto upholsterer.
He likely wants a Shark's help building his brand. Will a Shark bag a deal?
RareForm Shark Tank Recap
Aric and Alec enter seeking $300,000 for 10% of their business. They tell their story and hand out samples. The samples were made from a Shark Tank billboard! They have exclusive contracts with two large California billboard companies who give them the materials for free.
The surfboard bag costs $12 to make. They wholesale it for $40 and retail it for $80. They explain that the story sells the product and they need quality displays to sell in stores. They've done $1.1 million in lifetime sales with $700,000 in the past year. Unfortunately, they lost $130,000 last year.
The brothers own 40% of the company with other investors owning the rest. Barbara is the first Shark out stating they have too many investors. Mark said they need significant growth for him to get his money back, he's out. Lori doesn't like the lack of uniformity, she's out. Robert doesn't like the valuation, he's out. Kevin said he'd offer a $300,000 loan at 8% for 36 months. For that, he wants 10%. After some attempted haggling, Kevin stands firm and they accept his deal.
RareForm Shark Tank Update
The Shark Tank Blog constantly provides updates and follow-ups about entrepreneurs who have appeared on the Shark Tank TV show. The deal with Kevin did close, but they changed the terms to a $150,000 loan for 5% of the company after the show aired. Sales tripled in the aftermath of the original air date.
Over the years, they added to their product line. In addition to the back packs and surf board totes, they sell tote bags, duffle bags, cooler bags and small accessories. As of May, 2023, the company is still in business and doing $4 million in annual revenue.
Posts About RareForm on Shark Tank Blog
Rare Form – Sustainable Recycled Backpacks and Bags
RareForm Company Information
Video