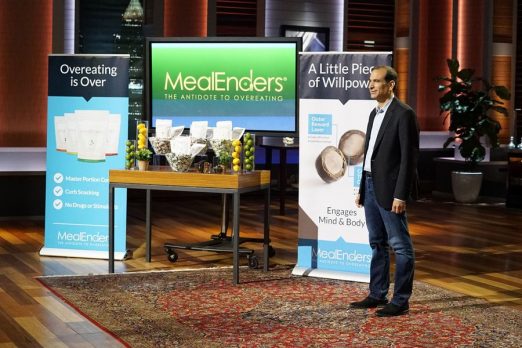 Mark Bernstein hopes the Sharks won't overeat when they bite on MealEnders, his "Signaling Lozenges" that curb appetite and help stop overeating. MealEnders is the first line of products from his company called Willpower Labs. The lozenges help train people to not overeat and, as a result, helps them lose weight.
Bernstein, a business executive with a long track record of success, started the business in early 2013. He had a weight problem because he constantly over ate. After his doctor advised him to lose a few pounds, he started doing some research. What he discovered was over eating is a biological issue. It takes the human brain "20 minutes after eating to get the hormonal signal from our digestive track that we are full." That's why people overeat.
To combat the problem, Bernstein wanted a small, simple and affordable solution. The MealEnders lozenges have a sweet outer layer that caters to the craving for sweets at the end of a meal. The inner layer has a cool, tingling effect which stimulates the trigeminal nerve, distracting your body and sending the signal from your brain that you're full. Using MealEnders with a bit of willpower allowed Bernstein (and many happy customers) to keep the weight off.
He probably needs a Shark to help ramp up production and get into mass retail. Will a Shark add this product to their diet?
MealEnders Shark Tank Recap
Mark enters seeking $350,000 for 8% of his business. He tells his story and hands out samples, cautioning the Sharks not to eat more than one. The Sharks like the "treats" and they have different reactions to the tingly interior. Kevin in particular doesn't like the interior.
Mark asks about sales and the Sharks like the $1.4 million he's done in a year and a half. His liabilities include $200,000  of his own money and a $1.1 million convertible note. Mark is the first Shark out, stating the reorder rates were not good and the company should try to go viral. Robert thinks it will cost too much to scale, he's out. Kevin said Mark had th first weight loss product he didn't rip to shreds, but he's not a fan of the cooling core, he's out. Lori goes out for the same reason. Barbara thinks it will take a lot more cash to get things moving, she's out too.
MealEnders Shark Tank Update
The Shark Tank Blog constantly provides updates and follow-ups about entrepreneurs who have appeared on the Shark Tank TV show. In the aftermath of the original air date, the company reports sales of $400,000. One year after appearing, they had $5 million in sales. As of May, 2023, the company is still in business and averaging over $1 million in annual sales.
Posts About MealEnders on Shark Tank Blog
Meal Enders Appetite Suppressant
MealEnders Company Information
Video