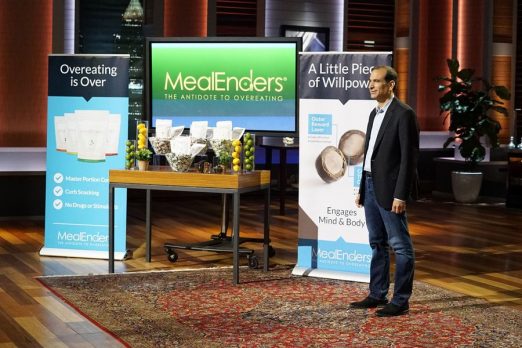 Mark Bernstein hopes the Sharks won't overeat when they bite on MealEnders, his "Signaling Lozenges" that curb appetite and help stop overeating. MealEnders is the first line of products from his company called Willpower Labs. The lozenges help train people to not overeat and, as a result, helps them lose weight.
Bernstein, a business executive with a long track record of success, started the business in early 2013. He had a weight problem because he constantly over ate. After his doctor advised him to lose a few pounds, he started doing some research. What he discovered was over eating is a biological issue. It takes the human brain "20 minutes after eating to get the hormonal signal from our digestive track that we are full." That's why people overeat.
To combat the problem, Bernstein wanted a small, simple and affordable solution. The MealEnders lozenges have a sweet outer layer that caters to the craving for sweets at the end of a meal. The inner layer has a cool, tingling effect which stimulates the trigeminal nerve, distracting your body and sending the signal from your brain that you're full. Using MealEnders with a bit of willpower allowed Bernstein (and many happy customers) to keep the weight off.
He probably needs a Shark to help ramp up production and get into mass retail. Will a Shark add this product to their diet?
MealEnders Shark Tank Recap
Mark will pitch the panel of five Sharks on the business and its prospects for growth. He'll need to convince Mark Cuban, Barbara Corcoran, Kevin O'Leary, Lori Grenier, and Robert Herjavec that the company is worthy of a Shark investment. A good business plan, good financials, and sales data will impress the Sharks, but he'll need to show them HE is capable of running the company to "Shark standards." A full pitch re-cap on MealEnders will be available on Shark Tank Blog once this episode airs.
MealEnders Shark Tank Update
The Shark Tank Blog constantly provides updates and follow-ups about entrepreneurs who have appeared on the Shark Tank TV show. Once an episode has aired, we monitor the progress of the businesses featured, whether they receive funding or not and report on their progress. The Shark Tank Blog will follow-up on MealEnders and Mark Bernstein as more details become available.
Posts About MealEnders on Shark Tank Blog
Meal Enders Appetite Suppressant
MealEnders Company Information
Video