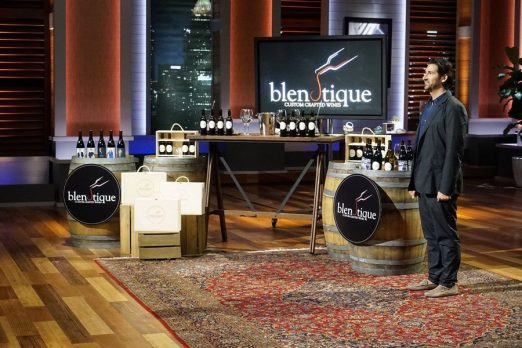 Billy Dim hopes to toast to a deal after he pitches Blendtique Wine Company, his "winery" that lets consumers customize wine blends from the comfort of home. Dim, a master sommelier, works with a network of wineries in the central coast of California to source his wines. Wine enthusiasts pick their favorites from his inventory and create a blend.
The Blendtique Wine Company is more platform than winery, but the result is custom wine. The process is simple: pick your favorite wines, create your blend, upload the recipe, design a custom label, and get your wine shipped to you. It's great for weddings, big events, or restaurants who want an easy way to get a house wine. There are also "pre-made" blends available.
Dim has been around the Santa Ynez Valley wine industry for ten years. He wanted to create a wine experience people could participate in. After working at several wineries as a sales director and manager, he started The Wine Apothecary – a distributor of wines to the restaurant, hotel and corporate gift industries. In 2013, he started the Blendtique Wine Company to fulfill his vision of wine drinkers designing their own wines.
He likely wants a Shark to help him scale the business rapidly. Will one of the Sharks raise a glass to this business?
Blendtique Wine Company Shark Tank Recap
Billy enters seeking $250,000 for 10% of his business. He explains the business and invites Barbara and Kevin onstage to do a head to head wine blending. The Sharks blind taste test each blend and Barbara wins! He tells the Sharks he's done $200,000 in sales over two years. He sells each blending kit for $99 and they cost him $35.
When he talks about doing the blendings as a class for corporate events, Mark goes out. Robert thinks Billy isn't focused enough and he goes out. Kevin thinks it would be too difficult to sell wine at $25 per bottle – he's out. Barbara asks how many people who buy a kit buy wine with it, Billy says 15%. Since he's not selling a lot of wine, Barbara is out.
Lori says she loves the product but asks if he could get the price down to $9. He says he can and she offers $250,000 for 30%. Billy reveals he has a partner and counters with 15%. Lori counters with 25%,  then he reveals he only owns 49% of the company. After hearing that, Lori offers a $250,000 loan at 8% interest for 10% equity. Billy accepts.
Blendtique Wine Company Shark Tank Update
The Shark Tank Blog constantly provides updates and follow-ups about entrepreneurs who have appeared on the Shark Tank TV show. The deal with Lori never closed, but Blendtique did a deal with Celebrity Cruise Lines to offer blending events on cruises. As of October, 2022, the company is still in business with estimated annual revenues of $4 million.
Posts About Blendtique Wine Company on Shark Tank Blog
Blendtique Wine – Custom Made Wines
Blendtique Wine Company Information
Video