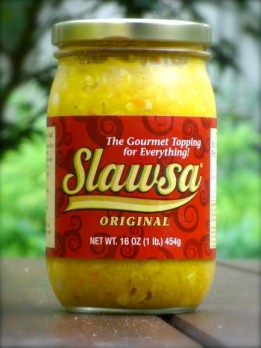 Julie Busha, an old "hot dog pal" of mine, enters the Shark Tank with Slawsa in episode 510. It's a combination of cole slaw, mustard, and salsa that's great on hot dogs and hamburgers. Julie is a tenacious entrepreneur who's managed to  get it on the shelves at over 4,000 supermarkets nationwide – including Roche Brothers right down the street from me. She's in negotiations with WalMart in the weeks prior to her episode's first run and has orders from many more markets and big box stores in the works. Slawsa sells in consumer sized jars and food service sized gallon jugs.
Julie got involved with Slawsa when the gentleman who invented it asked for her help marketing the product. Julie had 12 years of marketing for NASCAR under her belt and she had the product on the shelves in over 3,000 supermarkets in less than a year! She purchased the entire company earlier in 2013, so Slawsa is her baby now!
 Slawsa Shark Tank Recap
Julie didn't get a deal, but she won the Sharks' respect. When she revealed the sacrifices she made to make her business successful in a tearful "speech," every Shark was impressed. Julie really didn't need the Sharks, she's in over 5,000 stores (and counting) now and is working on deals with WalMart and other national retailers.
Slawsa  Shark Tank Update
In spite of her failure to obtain a Shark deal, Julie was able to continue to use her marketing experience to grow the  brand. She's expanded her retail reach into over 8,000 stores – they even carry it at Lowes! She appeared in a segment with Dave Ramsey, who happens to be a friend of Mark Cuban's, and reports that he remarked upon her statements about fiscal responsibility. Clearly she made an impression upon the Sharks during her appearance.
Most food companies are started by foodies who want to share their products with the world. Julie is a marketer who bought out a food company, and her success is the proof in the pudding. With her business acumen and focus on the business side of the company, Slawsa has brought her more than just a taste of success.
Over the years, Julie continues to grow the brand and get her product on store shelves. As of August, 2022, she's still in business and has $5 million in annual revenue. In November, 2022, it was revealed that Slawsa would be in 6 major league ballparks in the 2023 season.
***Editor's note: I buy this product regularly to put on hot dogs. I sometimes eat it right out of the jar. It's YUMMERS!
Posts About Slawsa on Shark Tank Blog
Royalty in Perpetuity stands for R.I.P.
Slawsa relishes opportunity to pitch in the "Shark Tank"
From Hot Dog Stories to Shark Tank!
Slawsa Success is More than Flavor
Company Information