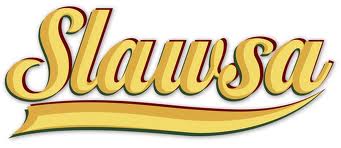 FOR IMMEDIATE RELEASE:
CRAMERTON, NC, November 7, 2013 – It seems that every day is the "National Day" to celebrate something or another and the Slawsa brand figured it was about time to celebrate one of their own. To coincide with the brand's national primetime television debut of ABC's hit show, "Shark Tank," November 15th will also mark National Slawsa Day.
As such, owner Julie Busha, is encouraging everyone to celebrate her small business brand by grabbing a jar of Slawsa from the local relish section so it can be incorporated into their Friday night family dinner before playing along with the Sharks during the episode when it airs at 9 pm ET/8 pm CT. Unlike many of the food items featured on the show, Slawsa is proud to be affordable to the entire population.
Tweet with the Sharks on National Slawsa Day
"Most people are not aware that each of the Sharks 'tweet' during each episode and we'd love for the viewing public to not only tweet along with them, but also with us," says Busha. "How cool is it that you might get a response back from one of the sharks? They really did start a trend that has no doubt grown the popularity of the show because the fans feel so much closer to it.
The brand is encouraging all tweets to also include the #sharktank and #slawsa hash tags. The five sharks Busha will pitch to include Mark Cuban (@mcuban), Daymond John (@thesharkdaymond), Kevin O'Leary (@kevinolearytv), Lori Greiner (@lorigreiner) and Robert Herjavec (@robertherjavec). The Slawsa twitter account is @slawsa and a teaser video is currently posted at the www.slawsa.com web site.
Immediately after the west coast airing, Slawsa plans to post a special video message from Julie Busha on the www.slawsa.com web site along with other special news.
Slawsa, a unique "slaw-salsa" hybrid condiment, is available in over 5,000 grocery stores across the U.S. and Canada including Kroger, Publix, Food Lion, Meijer, Piggly Wiggly, Hy-Vee, select Walmart, Ingles Markets, Lowes Foods, Food City and more. A full store list is posted at www.slawsa.com
For additional information on Slawsa and store locations, visit www.Slawsa.com or 'Like' them on Facebook at www.facebook.com/Slawsa and follow them on Twitter @Slawsa.