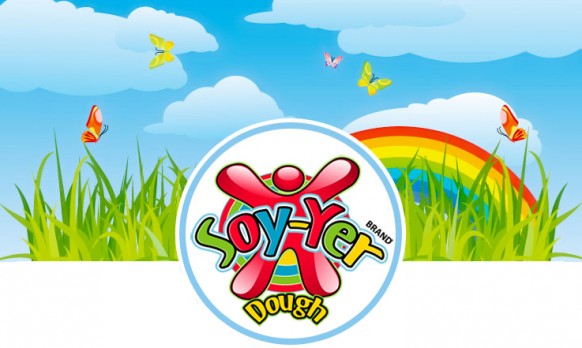 Sawyer Sparks comes to episode 107 of the Shark Tank with his wheat-free modeling dough, Soy-Yer-Dough. Sparks came up with the idea after meeting a college professor whose five-year-old daughter was unable to use traditional modeling dough. Previously, Sparks had never heard of celiac disease, and like most people, had no idea that the traditional "play" dough contained wheat, making it off-limits for children with sensitivities.
Sparks tried over 100 recipes in his mother's kitchen before he developed his dough. He patented not only the formula, but the concept, providing him with a strong position from which to negotiate a Shark deal. Sparks is determined to retain an ownership share of his company, and to produce his product in the USA. Will the Sharks want a bite of his dream?
Soy-Yer-Dough Shark Tank Recap
Sparks enters the Tank looking for a $125,000 investment in return for 25% of Soy-Yer-Dough. He tells the Sharks that 1 in 8 children suffer from wheat allergies, and that 1/8 of the sales of the major modeling dough is 12 million, an impressive potential market. The Sharks are impressed with sales of 8,000 containers, and an order for 11,000 more. The Sharks want to know if the material is proprietary. When Sparks reveals that he has not only a provisional patent on the product, but that Hasbro, makers of Play Doh products, have contacted him more than once with offers to buy the Soy-Yer-Dough patent, for as much as $500,000. The Sharks are hooked. Kevin O'Leary asks; "Why would you want to make one cup of this stuff while the number one guy on Earth is banging at your door?"
Sparks wants to keep the manufacturing and production local, and create jobs in his hometown, instead of selling out to a larger company and allowing his product to be manufactured overseas. His passion for his home town is evident, but O'Leary zeroes in on the business deal at hand. He calls Spark's move of getting a patent "outstanding," and says he "rarely sees a business opportunity like this."
What's the Deal?
The Sharks quickly enter a feeding frenzy. O'Leary offers $125,000 for 51% of the company. To sweeten the deal, he tells Sparks he can back out of the investment unless he's happy with the deal O'Leary hammers out with Hasbro. Daymond John says that O'Leary's deal is a good one, and goes out. Kevin Harrington says that O'Leary's a "natural partner" for Sparks, and bows out. Corcoran says that she's shocking herself by endorsing O'Leary, since she "doesn't even like the guy", and bows out for the same reason. The only Sharks left are Robert Herjavec and O'Leary. O'Leary claims that his expertise is worth 51%. Herjavec steps in with an offer of his own- He'll offer $125,000 for 40% of the company.
O'Leary wants control, and Sparks wants his expertise, but he's reluctant to give up the ownership share. Daymond John comes back to the table and offers an additional $200,000 in partnership with O'Leary. Herjavec speaks up, offering to join in O'Leary's deal as well, for an additional $100,000. O'Leary modifies the deal slightly, offering the 3 investors, each giving $100,000, for a deal of $300,000 for 51% of Soy-Yer-Dough. Sparks accepts. The Sharks are pleased, and Soy-Yer Dough is launched.
Soy-Yer-Dough Shark Tank Update
The deal with the three Sharks never closed, but Sparks re-entered negotiations with Hasbro. He hopes to build sales before attempting to sell the patent to a large toy company. His dream of having both a large deal and negotiating for jobs to be created in the US seems larger than life, but it's being realized. They changed the name to "Yer Dough" to avoid confusion since the product contains no soy.
He never did do a deal with Hasbro. The company was successful for ten years. In May, 2020 it was acquired by Sustainable Projects Group for an undisclosed amount.
Company Information
Video