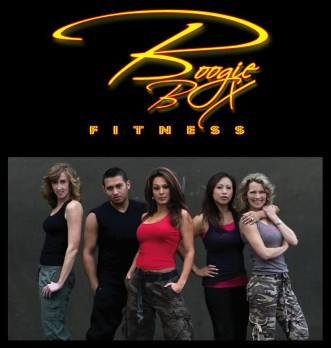 Dede Barbanti-Parra and Kathy Lamm walk into the Shark Tank during episode 107 with their business, Boogie Box Fitness. Barbanti-Parra came up with Boogie Box Fitness using her extensive experience in dance, choreography, and martial arts. She used her training to come up with a workout that utilizes the natural movements and stretching involved in dance and martial arts to create an exercise routine.
Boogie Box Fitness Shark Tank Recap
The entrepreneurs enter the Shark Tank looking for a $700,000 investment in return for 70% of the company. Before stating their offer, the partners put on a high-energy demonstration of they fitness routine, accompanied by several successful customers. The Sharks are clearly impressed, nodding along to the music and smiling.  Kevin O'Leary questions the effectiveness of the workout, so the entrepreneurs invite him up to try out the work out. Daymond John remarks that he has the "body of a god; Buddha, to be exact."
The lighthearted joking quickly shifts to seriousness, as O'Leary questions the plan. The women are seeking the investment to launch a home DVD line. They have created a business that involves training and certifying instructors and building a following. The proceeds from that part of the business has been $15,000. They explain that the offer is for the soon-to-be-launched DVD portion of the business. The Sharks question the amount of the investment versus the risk.
Daymond John is out based on the amount of the investment in comparison with the risk. Robert Herjavec declines to offer a deal on the same grounds. Kevin O'Leary believes there's such a thing as "money murder." He says that if he gives them $700,000, and loses his investment, that he'll go into "money hell." He's out. Kevin Harrington feels the investment is too large. He's out. Barbara Corcoran likes the ladies and likes the brand, but she believes that the entrepreneurs have asked for too large an investment and offered too large a piece of the company. The final Shark turns them down, and there is no deal.
Boogie Box Fitness Shark Tank Update
The ladies don't give up when they leave the Shark Tank empty-handed. They went on to produce the first DVD, and build a niche for themselves in the market. The exposure from Shark Tank helped create a buzz about Boogie Box Fitness, and the product was featured on national television shows like Dr. Oz and FitCeleb. Today, the business is thriving, driven by the ladies' passion for health and fitness. The Sharks may not have taken a bite of Boogie Box Fitness, but Barbanti-Para and Lamm held on and made their dreams come true.
The women kept the business going for a while. As of a July, 2021 update check, the company website is down and social media hasn't been updated since January, 2020. It appears they are out of business.
Boogie Box Fitness Company Information
Video