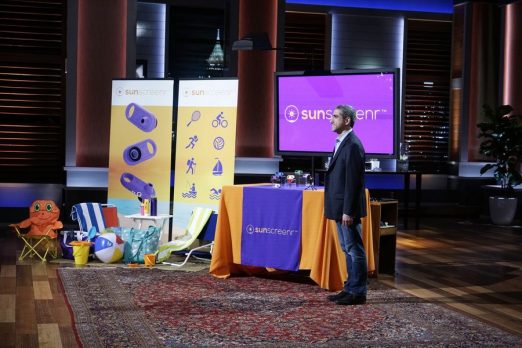 Dave Cohen seeks to get a Shark to invest in Sunscreenr, a small device that shows where you missed applying sunscreen, in Shark Tank episode 805. The device itself is a small camera. When you point it at someone (or yourself) skin that has enough sunscreen appears dark; unprotected skin appears light. Cohen invented Sunscreenr after seeing loved ones affected by skin cancer.
To get his product off the ground, he ran a successful Kickstarter campaign, which raised $119,629. He followed that up with an even more successful IndieGoGo campaign that raised $165,405. So far, he hasn't shipped any products to backers and he's shooting for a December, 2106 delivery date. There are problems sourcing the camera portion of the device.
When the product finally gets produced, it will be waterproof, sandproof,lightweight and small (smaller than a granola bar). Based on the two crowdfunding campaigns, it looks like it will cost around $120. Cohen doesn't have a website set up yet and is using the crowdfunding sites as his portals for product updates and information.
He likely wants a Shark to help him with sourcing components and for cash to ramp up production. Will the Sharks want to stay out of the sun?
SunScreenr Shark Tank Recap
Dave enters the Tank seeking $800,000 for 10% of the company. He gives his pitch and shows a photographic example of how it works. Lori came up and tried it and it was clear where the sunscreen was and wasn't. Daymond tried it too. He told them about the Kickstarter and handed out samples.
Kevin questions the $8 million valuation and Cohen says it's because he sold 1200 units in 5 weeks.  That projects out to $1 million in sales per year. They sell for $109 and cost $45 to make. Cohen says he has a couple of sunscreen companies interested. Mark is the first Shark out saying he thinks Dave has lost the ability to run the business side of things. Robert didn't believe people would use it to check every 30 minutes; he's out. Kevin offers the $800,000 for 33.3%. Lori goes out next, citing the valuation. Dave counters with25% but Kevin won't budge. Finally Dave agrees.
SunScreenr Shark Tank Update
The Shark Tank Blog constantly provides updates and follow-ups about entrepreneurs who have appeared on the Shark Tank TV show. The deal with Kevin fell apart in due diligence. The company social media has been dark since 2019 and the website lists all products as "out of stock." Cohen's LinkedIn page still lists him as the founder of the company, but as of May, 2021, not one single unit has been shipped to Kickstarter backers. Looks like this one is a big FAIL. Fast forward to July, 2022, and there are still hundreds of disgruntled Kickstarter and IndieGoGo backers. The product is still "sold out." Cohen is now pushing a product called UV Reveal, a UV mirror. That product is also "sold out."
As of August, 2022, the website is down, social media is dark and Cohen has wiped Sunscreenr from his LinkedIn profile. It's safe to say this business is dead and he kept the crowdfunding money.
Posts About SunScreenr on Shark Tank Blog
SunScreenr Company Information
Video