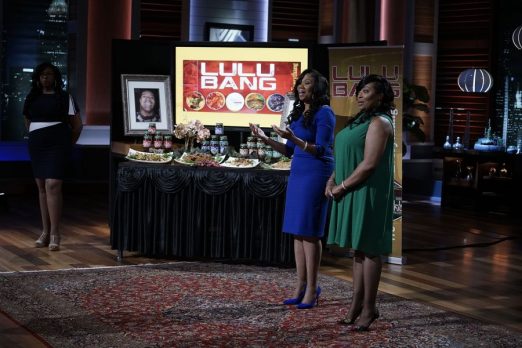 Ashley, Kelly, and Jorrae Beard pitch LuLu Bang, their line of sauces for barbecue and other dishes, in Shark Tank episode 805. The sisters, who also own a restaurant called Joyce's Soulful Cuisine in Philadelphia (now closed) and a catering business, started cranking out jars of their sauces in 2013 for their restaurant customers. Now, their primary business is producing the line of Lulu Bang sauces.
Jorrae is the creative sister, with many years of culinary experience. She named the company and the products after her older brother, Michael Anthony "Lulu Bang" Beard. Kelly serves as CEO. The inspiration for their former restaurant menu and the sauces came from their mother, Joyce Beard. They are a Veteran, Woman and Minority owned business.
As for the sauces, the signature sauce is Lulu Bang Barbecue Sauce. Other flavors include Asian Persuasion, It's Just Hot, and Bourbon Marinade. One jar will set you back $7.99. They are available online, at Philadelphia area ShopRite stores and at over 250 WalMart locations nationwide. In 2015, they attended Wal-Mart's second "Made in the USA" Open Call and U.S. Manufacturing Summit in Bentonville, Ark. That business trip got them into WalMart and they are expanding into more stores.
The Beards likely want a Shark to help them manage their growth. Will a Shark think there's enough bang for their bucks?
Lulu Bang Shark Tank Recap
Ashley, Kelly, and Jorrae enter seeking $150,000 for 10% of their business. While telling their story, they say they want to bang for breakfast, lunch and dinner. The Sharks are amused by their double entendres. The ladies hand out samples of their sauces. They're good on chicken, seafood, steak and more. The ladies tell the Sharks they can "bang anything" with their sauces.
The Sharks like the sauces, but Kevin has concerns with distribution as it's a crowded space. They explained that they're in 170 Walmart stores, which impresses the Sharks. Each jar costs $1.94 to make and they retail for $3.99. Their sell through is about 500 units a week at all the stores and they aren't selling well online. The problem is they are a brand new brand.
Kevin thinks they need a lot more than $150,000 to build a brand, he's out. Daymond knows the challenges of marketing a sauce from his deal with Bubba Q, he's out. Robert says the packaging is confusing to him and he's not the right partner, he's out. Lori thinks there are too many sauces out there, she's out. Mark complements them on their accomplishments but he doesn't see any room for an investor, he's the last Shark to go out.
Lulu Bang Shark Tank Update
The Shark Tank Blog constantly provides updates and follow-ups about entrepreneurs who have appeared on the Shark Tank TV show. In the three days following the original air date, they did $60,000 in sales – more than the previous three months!
As of November, 2022 they are in business and selling in Wal Mart Stores in New Jersey, Pennsylvania, Maryland, New York, Delaware, Connecticut, Virginia, Utah, and Michigan. They're also in Shop Rite stores in New Jersey and Pennsylvania. They still sell from the company website, too.
Posts About Lulu Bang on Shark Tank Blog
Barbecue Sauce Company wants to Bang Everythang
Lulu Bang Company Information
Video