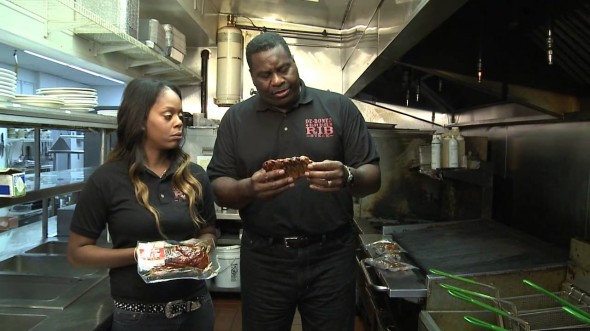 Journeyman NFL defensive lineman Al "Bubba" Baker feeds the Sharks some of his Bubba Q Boneless Baby Back Ribs in episode 513 on December 6. Baker, whose NFL career spanned 12 years, did stints with the Lions, Cardinals, Vikings, and Browns from 1978-1990 and was defensive rookie of the year. Since he retired from the gridiron, he's built quite a following in Cleveland with his successful restaurant called Bubba's Q.
Bubba's Q slow smokes all their meats with apple wood until they're "fall off the bone tender." This is where he got the idea to start selling Bubba Q Boneless Baby Back Ribs to the masses. They don't use flap meat for their Bubba Q Boneless Baby Back Ribs – they de-bone each rack by hand. The result is a delicious, easy to eat, barbecue treat that he says is more like a steak than a rack of ribs.
Baker is likely looking for a Shark to help get the retail business off the ground.
Bubba Q Boneless Baby Back Ribs Shark Tank Recap
Al enters with his daughter Britney seeking $300,000 in exchange for 15% equity in his business. He explains his love of barbecued ribs and how his wife hates the mess. While warming ribs in the microwave, he explains how his wife's disdain for messy ribs made him find a way to de-bone them after cooking.
Once the ribs are ready, he hands out samples and the Sharks LOVE them. While eating, they ask about his football career – then the real questions start. Kevin wants to know if there is anything proprietary about the product. Al produces two patents: one for de-boned ribs and one for the de-boning process. Mr. Wonderful says he's never seen a patent for a food product in the Tank.
He's done $154,000 in sales for the year, and has ribs for sale in 48 stores. Barbara wants to know why it took him so long to get started and he says his daughter pushed him after she said she wanted to quit track. She said "you gave up on your ribs," which inspired Bubba to get going with the business. Britney is now his partner.
Kevin decides to offer $300,000 for 49% of the business, contingent on licensing the patented process. He says he'll call on the largest meat packer in the USA and get a deal. Daymond calls Kevin a "greedy savage" and offers $300,000 for 30% because he loves ribs so much.
Robert says Bubba is paying a big premium for a phone call with Kevin's deal and he goes out. Barbara says Kevin and Daymond's offers are better than hers, so she goes out. Mark goes out for the same reasons as Barbara. After a moment of reflection, Bubba accepts Daymond's offer.
RESULT: DEAL with Daymond for $300K for 30%
Bubba Q Boneless Baby Back Ribs Shark Tank Update
The Shark Tank Blog constantly provides updates and follow-ups about entrepreneurs who have appeared on the Shark Tank TV show. Bubba Q Boneless Baby Back Ribs has grown, but not without some struggles. The company was featured in Beyond the Tank Episode 1. Click HERE for a full recap.
A second update occurs in season 8, episode 823. In the update, Daymond and Bubba discuss the company's burgeoning sales, $16 million to date!
In October, 2019, Bubba closed his restaurant after 13 years in business. That's as long as he played football. The ribs are still available to order from the company website. He also has products in 3000 or so grocery stores and he did a 1 million pound order with Hardee's/Carl's Junior restaurants for a limited edition pork rib sandwich.
The Covid-19 pandemic hurt sales and there was trouble behind the scenes. In May, 2023, Bubba revealed to an LA Times reporter he felt cheated by Daymond and the producers of Shark Tank. He claims he only recieved a little over $600,000 touted in the season 8 update. He also revealed the Daymond introduced him to Nate Holzapfel from Mission Belt. Nate helped the Bakers set up an eCommerce site to sell their products online and they did $250,000 in sales on show night. Nate, who's since been indicted for multiple fraud counts, sexual harrassment and othe charges, controlled the business bank account and, when the Bakers terminated that arrangement, he closed up shop and sent them a check for just $8000.
In 2015, Bubba secured a licensing/co-packing deal with Rastelli Foods Group.; The deal would give the Bakers 45% of sales revenue. The Bakers claim Daymond injected himself into the deal and the new terms were the Bakers got 45% of  sales, Rastelli got 35% and Daymond got 20%. After several $20,000 to $25,000 payments, the payments dwindled and both Daymond and Rastelli ceased communications with the Bakers. The Baker family also alleges the Carl's Jr. deal, worth $5.8 million, only netted them $2,900 in net profits and a $61,917.45 licensing fee.
In 2019, Rastelli Foods sued the Bakers claiming they weren't being forthright about the joint venture's finances. The case was settled and Rastelli agreed to pay the Bakers $100,000 in installments. When the Bubba's ribs business was sold, the installment payments dwindled. The Bakers, who were $170,000 in debt due to legal fees, were forced to shutter their business and sell their home (at a loss).
After this story broke in May, 2023, Daymond sought a temporary restraining order against the Bakers. In a statement issued by Daymod's spokesperson, it said the "temporary restraining order is due to the Bakers' blatant actions to undermine a business partnership and the legal parameters they agreed to four years ago. Their belief that they can unwind poor business decisions through slanderous social media posts and articles will no longer be tolerated." Daymond himself called the accusations by the Bakers a "false narrative." As of May, 2023, the ribs are still for sale on the company website. They are no longer available in stores.
In July, 2023, both Daymond and Rastelli Foods obtained a permanent injunction against the Bakers, making the temporary restraining order permanent. The Bakers were ordered by the judge in the case to cease making any disparaging comments about Daymond and to remove all negative social media posts.
Posts About Bubba Q Boneless Baby Back Ribs on Shark Tank Blog
Bubba Q Boneless Baby Back Ribs Information