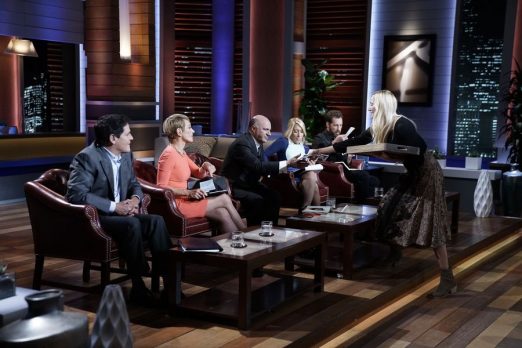 Chris Sacca makes yet another guest appearance in Shark Tank episode 823. Four new businesses will vie for an investment from him or one of the other Sharks. It's a tech-heavy episode featuring three apps. Savannah Cowley and Samuel Agboola show off Flag, their app that prints free photos for users; the catch is the photos have ads on the back. Joseph Parisi and Nick Nevarez pitch Guard Llama, a personal security device that instantly alerts police with your description and location whenever it's activated. Ian Lyman, Tov Arneson, and Alex Wilhelm seek validation (and cash) for Validated, their app that lets retailers and merchants validate transportation expenses like they validate parking. Brian Riley and Kyle Jansen hope they get an investment for Guardian Bikes, their company that builds safe childrens' bikes with a proprietary braking system.
Who will the Sharks invest in tonight?
Back in season five, Daymond invested $300,000 for 30% of Bubba's Boneless Ribs. The company hit some roadblocks, as depicted in a Beyond the Tank segment. Their co-packer was having difficulties. Tonight, we'll see what's new with Bubba-Q!
There are 28 Shark Tank Episodes for Season 8. This season features more appearances by Chris Sacca and a host of other surprises. Casting is currently closed, but it never hurts to get a head start on season nine! If you would like to appear on the show, check out our Auditions and Casting information.
Episode 823 – The Shark Investors and Entrepreneurs
The Shark Tank Episode 823 entrepreneurs will make their best pitch to the panel of five Shark investors who will use their own money if they choose to invest. The Shark Investors negotiate on the spot without any previous information, which differs from typical negotiations between venture capital investors and entrepreneurial start-ups.
Companies pitching the Shark Investors must go through a rigorous due diligence process before an on-air deal is completed. Shark Tank Blog follow ups help you keep track of the companies that end up successful and the ones that don't complete their deal.
Thank you for reading SharkTankBlog, the number one site for Entrepreneurs, Investors and Fans. Our content updates multiple times day, giving you the latest information on Episode 823, Season 8, and all other seasons and episodes.
Episode 823 Press Release
Episode 823 (4/14)
PITCHES INCLUDE A LIVE LLAMA THAT MAKES ITSELF RIGHT AT HOME IN THE TANK, AND AN INGENIOUS BICYCLE BRAKING SYSTEM THAT PREVENTS ACCIDENTS,
ON ABC'S 'SHARK TANK'
"Episode 823" – To show how their smartphone app can improve personal security, two entrepreneurs from Chicago, Illinois, bring a live guard llama into the Tank; two entrepreneurs from Irvine, California, deliver a safer take on the bicycle by innovating the brake system; a trio from Seattle, Washington, have an app that helps shoppers and diners earn free parking in exchange for their business; and business partners from Santa Clarita, California, hope to convince the Sharks to take a shot with their free photo-printing service. Also, a follow-up with former professional football player Al "Bubba" Baker from Avon, Ohio, and his de-boned rib steaks known as Bubba's Boneless Ribs, which Daymond John invested in during season five, on "Shark Tank," airing FRIDAY, APRIL 14 (9:00-10:01 p.m. EST), on The ABC Television Network.
The Sharks in this episode are Mark Cuban, Barbara Corcoran, Kevin O'Leary, Lori Greiner and Chris Sacca.