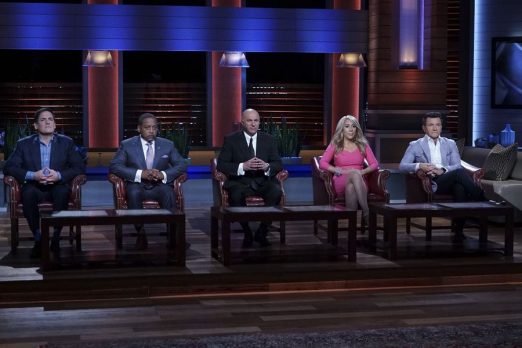 Shark Tank episode 805 features 4 new companies seeking funds from the wealthy Sharks to start, grow, or save their businesses. Aaron Liskov and Andrew Zahornacky hope the Sharks like UnPack, their service that packs, rents, and delivers clothing to your travel destination. Ashley, Kelly, and Jorrae Beard pitch Lulu Bang, their mom's barbecue sauce recipe they've turned into a big business. Alex Craig of Potato Parcel shows off his marketing skills when he shows the Sharks how he makes over $10K per month selling messages printed on potatoes. David Cohen hopes to get the Sharks on board Sunscreenr, a device that detects where you missed putting on sun screen.
Which businesses do the Sharks invest in tonight?
Back in season five, Barbara invested $175K for 10% of Grace and Lace. Since then, they've been wildly successful. There were update segments in season six and in Beyond the Tank episode 201. Tonight's segment is the latest chapter in the success story of this company.
There are 28 Shark Tank Episodes for Season 8. This season features more appearances by Chris Sacca and a host of other surprises. Casting is currently closed, but it never hurts to get a head start on season nine! If you would like to appear on the show, check out our Auditions and Casting information.
Episode 805 – The Shark Investors and Entrepreneurs
The Shark Tank Episode 805 entrepreneurs will make their best pitch to the panel of five Shark investors who will use their own money if they choose to invest. The Shark Investors negotiate on the spot without any previous information, which differs from typical negotiations between venture capital investors and entrepreneurial start-ups.
Companies pitching the Shark Investors must go through a rigorous due diligence process before an on-air deal is completed. Shark Tank Blog follow ups help you keep track of the companies that end up successful and the ones that don't complete their deal.
Thank you for reading SharkTankBlog, the number one site for Entrepreneurs, Investors and Fans. Our content updates multiple times day, giving you the latest information on Episode 805, Season 8, and all other seasons and episodes.
Episode 805 Press Release
Episode 805 (10/28)
PITCHES INCLUDE A MILLENNIAL ENTREPRENEUR WHO HAS MADE HUNDREDS OF THOUSANDS OF DOLLARS FROM A POTATO AND A REVOLUTIONARY NEW WAY TO GET PROTECTION FROM THE SUN, ON ABC'S 'SHARK TANK'
"Episode 805"— After a young man applied four times to be on "Shark Tank," he and his business partner from Carrollton, Texas, get a chance to pitch a gimmicky business that delivers an unusual twist to a common vegetable; a Shark proclaims the taste of a unique barbeque sauce inspired by the mother of two sisters from Philadelphia, Pennsylvania, "could bring a tear to a glass eye." Two millennial entrepreneurs have come up with an idea to alleviate the hassle of luggage and packing when travelling; and a biochemist from Chapel Hill, North Carolina, can make the invisible visible with a device ensuring one is always protected from the sun. Also, an update from Melissa and Rick Hinnant and their Grace & Lace accessory line, which Barbara Corcoran invested in during season five, on "Shark Tank," airing FRIDAY, OCTOBER 28 (9:00-10:01 p.m. EDT), on the ABC Television Network.
The Sharks in this episode are Mark Cuban, Kevin O'Leary, Daymond John, Lori Greiner, Robert Herjavec.