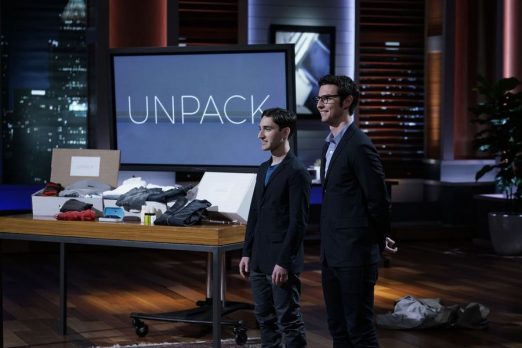 Aaron Liskov and Andrew Zahornacky pitch UnPack, their packing service that delivers a suitcase full of clothes to your travel destination, in Shark Tank episode 805. The service basically rents clothes in a suitcase, complete with toiletries, and delivers them to your hotel (or AirBNB). You pack socks and underwear. When your stay is over, you leave the suitcase at the hotel's front desk; you keep the toiletries. They also offer a "companion winter unPack" with a down jacket, a lighter jacket, winter hat, scarf, gloves, and an umbrella, as well as toiletries.
The pair got the idea while traveling extensively for business. By the end of their stay, they looked haggard and, since they were constantly traveling, they didn't have time to do laundry or otherwise refresh their wardrobe. The company uses top brands like Columbia, Nike, and Ministry of Supply, assuring quality garments for the traveler.
UnPack services are only available in New York City currently. They plan on expanding to Boston, Philadelphia, Miami, San Francisco, and Washington, D.C. Packs start at $39.99 and go up from there depending on how long your stay is and what clothes are in the pack. After returning your suitcase, they professionally clean each garment for the next renter.
Aaron and Andrew likely need cash for expansion. Will a Shark unpack their wallet for this business and invest?
UnPack Shark Tank Recap
Aaron and Andrew enter the Tank seeking $500,000 for 40% of their business. Their pitch was a rehearsed back and forth dialogue with Aaron complaining about the hassles of packing for business travel and Andrew touting the value of Unpack. They tell the Sharks they send everything needed for a trip, including underwear and socks – but not shoes. The cost is $20 per day. The Sharks are unimpressed with their sales: 37 users in six months.
Mark is first out, saying the guys want a Shark to help them reinvent the business. Robert doesn't think people will want to rent used clothing; he's out. Kevin says they needed to be more clear about their business model; he's out. Daymond doesn't think they're solving the luggage problem; he's out. Lori said it was a "complete nightmare" for an investor and she goes out too.
UnPack Shark Tank Update
The Shark Tank Blog constantly provides updates and follow-ups about entrepreneurs who have appeared on the Shark Tank TV show. This business closed in 2017, less than a year after appearing on Shark Tank. As of June 2021, both men have moved on to other careers.
Posts About UnPack on Shark Tank Blog
UnPack Company Information
Video