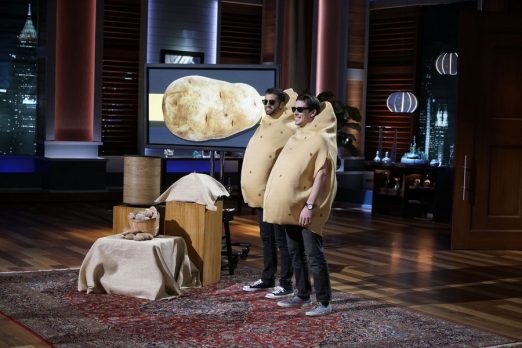 Riad Bekhit and Alex Craig pitch Potato Parcel, their quirky business that sends anonymous messages on potatoes, in Shark Tank episode 805. Craig got the idea in 2015 after seeing a picture of potatoes with stamps on them. He went out, bought some potatoes and pens, set up a website, and started selling products.
Customers go online and craft their message, then Potato Parcel ships the message, written on a potato, to the recipient. It can be an  anonymous gift or not, it is the customer's choice. Anything goes on your potato, except "hateful, harmful, or threatening messages." In 24-48 hours, your potato arrives at the recipient's home.
It costs $9.99 for a standard written message. They can also print photos ($14.99) or postcards ($12.99) on a potato. An upsell option is a small, burlap bag for $4.99. Shipping is about $4. Craig claims sales in excess of $10,000 a month. They likely want a Shark to help with juicing up their marketing.
Do Sharks like potatoes?
Potato Parcel Shark Tank Recap
Riad and Alex enter seeking $50,000 for 10% of their business. They explain their business and hand out samples, then the questions come. Each potato has a picture of the Sharks on it, except Mr. Wonderful's. His says "there is nothing proprietary about this." They do different potatoes for different holidays and sweet potatoes for Valentine's Day. Until they hear the sales figures, the Sharks think the guys are joking
They've sold over 12,000 since the business started. That's a lot of potatoes. They've made $213,000 which they're plowing back into the business. Riad owns the business, he bought it for $42,000 from Alex. Alex gets a $1 per potato royalty for 60 days after Shark Tank.
Robert thinks it's cute, but the valuation is too high, he's out. Daymond thinks they took a gag too far, he's out. Lori quickly follows. Mark doesn't think they're completely insane, but he goes out. The word "royalty" woke Mr. Wonderful up. He offers $50,000 for 10% plus half of Alex's royalty for 60 days, then he wants a dollar per potato until he recoups $150,000. Robert offers $50,000 for 25%; the guys counter with 17.5%. Robert won't move so, after some back and forth, they go with Kevin.
Potato Parcel Shark Tank Update
The Shark Tank Blog constantly provides updates and follow-ups about entrepreneurs who have appeared on the Shark Tank TV show. This deal closed and Kevin thinks it's one of the best deals he ever made. As of early 2020, they've sold over 70,000 parcels and earned over $7 million in sales. Riad bought Alex out for $40,000 after they taped their segment but before it aired.
In February, 2020, the company appeared in The Shark Tank Greatest of All Time Special in the "greatest pitch success" category.
As of April, 2023, the company is going strong, raking in around $600,000 -$700,000 per year.
Posts About Potato Parcel on Shark Tank Blog
Company Information
Video