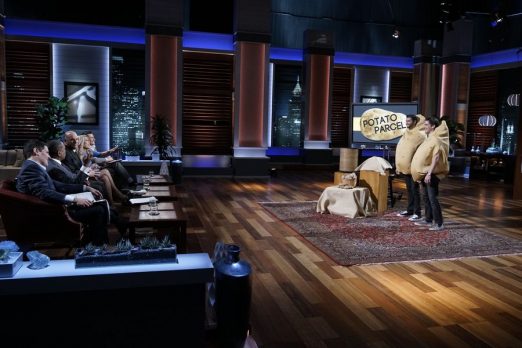 Riad Bekhit and Alex Craig pitch a service, called Potato Parcel, that might be the silliest business ever on Shark Tank. The business is this: for ten bucks, anyone can send anyone else a potato with a message written on it. It can be anonymous or not. For a few extra bucks, he can print a photo on it too! Just about anything goes, as long as it's not a "hateful, harmful, or threatening message."
The original idea was Craig's brainchild and, at the time, his girlfriend said he was crazy. Well, he's crazy like a fox; Potato Parcel boasts over $10,000 a month in sales! With tongue firmly in cheek, Craig told Mashable, "there are so many apps and new technologies that are trying to revolutionize communication and I wanted to do it in a much simpler way."
People love the idea, so much that Craig is going to make six figures this year. It's a simple business: he buys potatoes at his local WalMart, writes the message with a Sharpie, and ships it. What he needs a Shark for is beyond me!
My Take on Potato Parcel
Whenever I hear about someone doing something completely goofy like this, I have to smile. I give Craig credit for trying a wacky idea and running with it. He got started marketing it on Reddit, and it took off immediately. I guess there's not limit to the stupid crap people will drop ten bucks on.
I'd never do this. If I felt inclined to send someone a potato with a message on it, I'd just do it myself. I wish Mr. Craig well, but this is just another one of those faddy "internet things." For that reason, I am out.
Do Sharks Mash Potatoes?
There have been other faddy businesses on Shark Tank. Send a Ball from season 1 offered to mail an inflatable ball with a message on it. They're still in business and plugging away. I Want to Draw a Cat for You from season 3 actually got a $30,000 investment from Mark Cuban and did several hundred thousand dollars in sales for custom cat stick figure drawings before closing down in 2015 (he later opened the business back up but he's lost the momentum). Potato Parcel fits in this bag of businesses.
I don't think the Sharks are going for this. Cuban learned that there isn't a lot of long-term return in such a business and the other Sharks know this. I think this spud will be a dud with the Sharks.
**Boy was I wrong on this one!