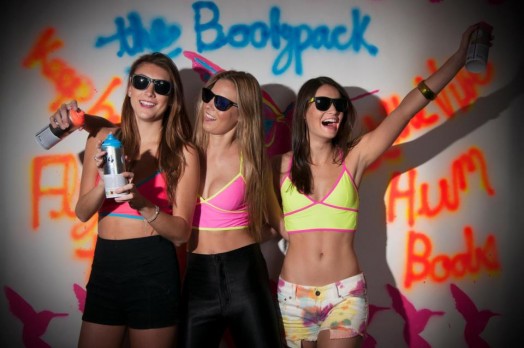 Christina Conrad pitches the BoobyPack, a "fanny pack for your rack," to the Sharks in Shark Tank episode 622. The BoobyPack is a sports bra with zippered, waterproof, pockets for holding cell phones, credit cards, and cash. Christina likes the EDM (Electronic Dance Music) scene and she invented the BoobyPack to have a secure place to stow valuables when attending raves. The product is patent-pending and made in New York City.
Initially, Conrad targeted the EDM crowd to market her product, but she's aiming for any women who workout or lead an otherwise active lifestyle. She got the BoobyPack off the ground with a successful Kickstarter campaign back in January, 2013. She managed to raise $32,725 – more than twice her $15,000 goal.
The BoobyPack comes in about a dozen styles, including tank top BoobyPacks. You can purchase The BoobyPack on the company website. Pick a style and color and even personalize it if you want (that's extra); if you order now, you can even get a limited-edition Shark Tank Top. Expect to pay between $54 and $60 each.
Conrad likely needs cash to fund inventory and some help with retail distribution. Will the Sharks pack up an investment in The BoobyPack?
The BoobyPack Shark Tank Recap
Christina enters $80K for 20% of the BoobyPack. She has a model demonstrate the pockets and asks which Shark wants to be her "breast friend." She hands out samples. It costs her $7 to make one and she sells them for $55. She tells about her Kickstarter success and says she's done over $160K in sales.
For now, she wants to keep selling online, but wants to go to the next level. Mark wants to know her customer acquisition costs, which is about $7 per customer. She wants to ramp up SEO marketing and do more advertising. She reveals her dad left her some money when he passed away which is how she can afford to grow without taking a salary.
Mark thinks it's a product, not a company; he's out. Mr. Wonderful offers $80K with a $10 per unit royalty in perpetuity. Christina declines. Barbara says she thinks she'll be fine on her ow, she's out. Lori follows suit for the same reason. Robert thinks she's relentless and offers $80K for 30%. Mr. Wonderful then modifies his offer to $80K for the $10 per unit royalty, which goes away when he recoups 4 times his investment, then he keeps 5%.
Christina asks Robert if he'll go to 25% and Barbara says "I'll take that deal!"
RESULT: DEAL with Barbara Corcoran for $80K for 25% of BoobyPack
The BoobyPack Shark Tank Update
The Shark Tank Blog constantly provides updates and follow-ups about entrepreneurs who have appeared on the Shark Tank TV show.  Christina shut the business down in December, 2017. As of August, 2021, she is living in England with her husband and works as a freelance writer.
Posts About The BoobyPack on Shark Tank Blog
The BoobyPack Company Information
Video