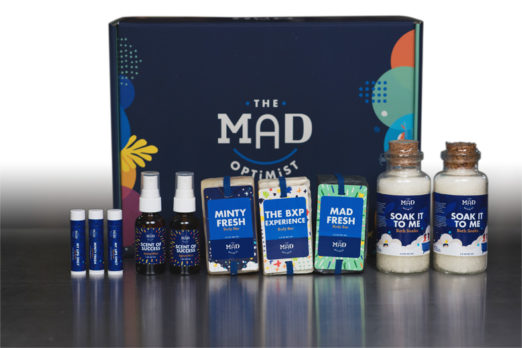 Mohammed M. Mahdi, Mohammed A. Mahdi and Anthony Duncan enter the Tank to pitch The Mad Optimist, their custom soap and skin care company, in episode 1122, the Shark Tank Season 11 Finale. Originally called The Soapy Soap Company, it was founded in The Brandery, a greater Cincinnati business accelerator, in 2017. The three friends wanted a soap that was not made from animal fat since they're all Muslims and vegans. All their soaps are vegan and Halal (Muslim for "allowed").
Their soaps and other products are customized by each consumer, so there are a huge amount of combinations available. Since they developed a proprietary process for curing soap in one day (it normally takes 30 days), they're able to produce and ship product quickly. Customers choose the basic formula, essential oils, exfoliants, fragrances, and other add-ins. You also pick the name of the soap and the packaging.
They also offer "sliding scale pricing." This means the customer chooses what they want to pay. For instance, a bar of soap is anywhere from $6-$16, you decide. In addition to bar soap, they also sell balms, sprays and bath soaks – all with the same customization options. Customers can also purchase pre-made "popular products" on Amazon. The Brandery got them off to a good start with a $100,000 grant, a year of free office space and $200,000 in "additional benefits." Now, they'd like a Shark to help them in the next phase of their business.
Company Information
Video

Posts about The Mad Optimist on Shark Tank Blog
The Mad Optimist – Personalized Soaps and Skin Care
The Mad Optimist Shark Tank Recap
Mohammed, Mohammed and Anthony enter seeking $60,000 for 10% of their business. They explain their back story and get into how they custom price and make each bar of soap. Kevin and Robert are not impressed. Kevin calls the business model "the third level of hell."
Sales aren't exactly huge either. They've only sold $97,000 for the year $21,000 of which were custom products. The Sharks, except for Mark, are not impressed. Mark likes the transparency and believes it will earn them repeat customers. He offers $60,000 for 20% and the guys quickly accept.
The Mad Optimist Shark Tank Update
The Shark Tank Blog constantly provides updates and follow-ups about entrepreneurs who have appeared on the Shark Tank TV show. The deal with Mark never closed. On the date of their original air date, it was the Shia Muslim Day of Ashura. They donated all sales proceeds from 8PM to 3 AM Eastern time –  a total of $80,192.39 – "to worthy organizations which fight societal oppression." As of December, 2022, they are still in business and have annual revenue of $1 million.