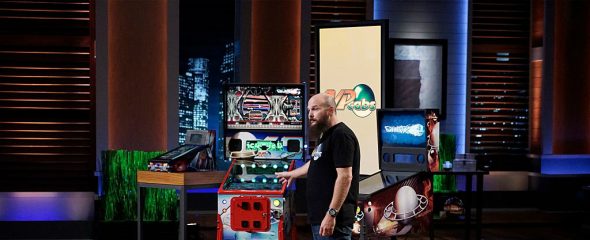 Brad Baker wants the Sharks to play ball (pinball that is), when he introduces VPCabs, his virtual pinball machine company, in Shark Tank episode 722. Baker started the business when his brother, who owns a couple of arcades in the Cincinnati area, asked him to create a virtual pinball machine for him. Soon, Baker had so many requests for machines, he had to relocate from his garage to a dedicated manufacturing facility in Fairfield, Ohio.
VPcabs are cabinets that look like old-school pinball machines, but use HD LED screens to mimic a pinball game electronically. The biggest benefit is each machine can store 200+ games that range from new offerings to games that mimic pinball classics. Since there are no moving parts, maintenance is virtually non-existent.
Machines range in price from $3495 to $7995. They sell through a network of over 20 dealers in 12 states. The company was voted the best holiday game by the Game Informer 2014 Holiday Buyers Guide. Baker likely wants a Shark's help getting more market penetration and for assistance with ramping up production. Will a Shark play (pin) ball with this company?
VPCABS Shark Tank Recap
Brad comes to the Sharks looking for an investment of $200,000 in return for 10% of his company. The Sharks are anxious to try the VP Cabs games. All of them come up to give the games a go. Mark Cuban has trouble pulling himself away. The Sharks are hooked.
Robert Herjavec wants to know about sales. Brad explains that the business started with sales of 8 machines after he built a prototype. Those eight machines allowed Brad to save his home from foreclosure.
In the following eighteen months, he was able to sell 200 units, earning $750,000 in sales. The machines start at $3,000, and go up to $9,500. His most popular model is $8,000. His profit margin is around 50%, but his profitability is lacking. His net profit was $12,000.
Robert Herjavec doesn't believe that there's a market beyond "old guys like me who like pinball." Lori Greiner agrees. She believes it's a novelty, and will not be scalable. She's out. Robert says he doesn't "share your vision" for getting into Chuck E. Cheese and other large platforms. He's out.
Mark Cuban sees a challenge in the fact that Brad doesn't own the software that runs his games. He doesn't believe he brings enough innovation to gaming, and he's out.
Only Daymond John and Kevin O'Leary are left. Daymond is interested. He has a company called Craigs that could manufacture the machines while Brad handles marketing. Daymond makes him an offer. $200,000 in return for 30%. Brad counteroffers, asking if Daymond would consider 20%.
Daymond thinks for a moment before countering for 25%. Brad accepts, and walks out of the Tank with a Shark deal.
RESULT: DEAL with Daymond for $200K for 25%
VPCABS Shark Tank Update
The Shark Tank Blog constantly provides updates and follow-ups about entrepreneurs who have appeared on the Shark Tank TV show. Once an episode has aired, we monitor the progress of the businesses featured, whether they receive funding or not and report on their progress.
Since appearing on Shark Tank, Brad has followed his dream of spreading to more trade shows and ComicCons across the country. In a smart move, he partnered with Wizard World Comic Cons and the Michael J Fox Foundation for Parkinson's Research, to create and auction off a customized Back to the Future game. The machine was autographed by several cast members. Fifty-one bidders pushed the final price up to $7,500, but the marketing and exposure VP Cabs received was priceless. Daymond John played his way to a winner with this Shark Tank investment.
In June, 2017, Daymond lists this business as one of the five top deals he made on the show. Sales in the first year after Shark Tank were $1 million. Brad also sells a "Better Desk" on the company website. During the Covid-19 pandemic, business slowed due to chip shortages. In 2021, the company opened a bar in Hamilton called The Pinball Garage. It is located in front of the manufacturing facility. There are over 30 beer taps and 70 pinball machines. Food is served by Brad's new food truck called Brisketology. In July, 2022, he doubled the size of the bar, added 30 more pinball machines and a dining area. Fast forward to February, 2023 and the company is doing an estimated $3-$5 million per year in sales.
Posts About VPCABS on Shark Tank Blog
VPCABS Company Information
Video